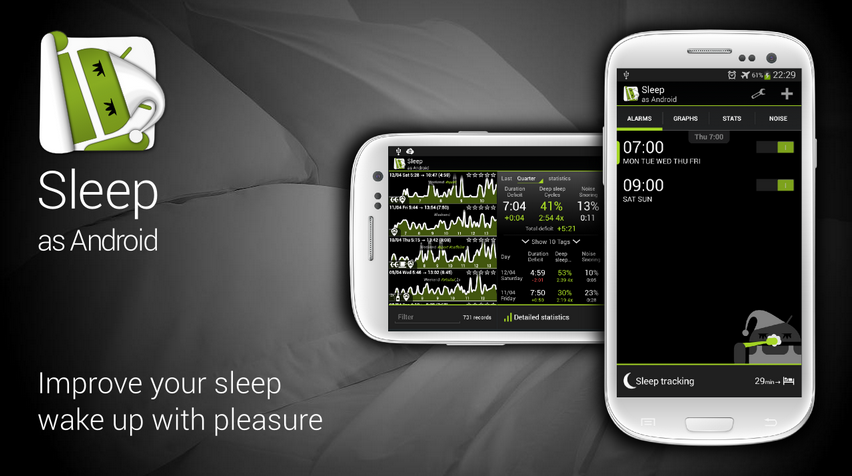 It's imperative. The right sleep, the right wake up time to be in at work, school/college, the right time to sleep so that you don't wake up early, and if all fails then your Android phone that will help you steer your way out of slumber and out of your bed over to the place you need to go.
Over and above that, here's a wonderful Android app that tells you not only how soundly you slept (when you did that is), but also helps you wake up with an integrated alarm, and to top that off helps you start of your sleep too with an in-built playlist of binaural sounds to put you into sound slumber. It's name is Sleep As Android.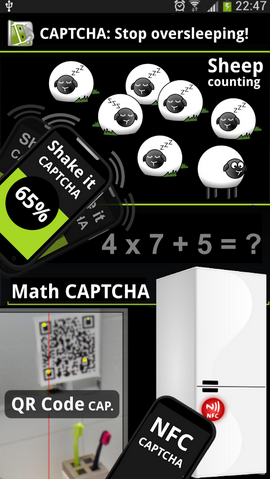 This extremely detailed Android app adjudicated by the Google Play Store, and developed by the ace Urbandroid team will put you on a sojourn where only the finest dreams will fill your minds.
Beginning with the part where it puts you to sleep, this app plays a set of binaural sounds that fill your ears when you would like to go to sleep. Here's a few from the list of sounds:
• Whale Diving
• Ocean
• Fire Place
• Chants
• Thunderstorm
• Sheep counting
The Sleep As Android app has a lot of inbuilt functionality that allows you to sleep while it senses your movements and tracks these on a graph that you will see in the morning.
These are detailed graphs that allow you to track exactly how your sleep cycle progresses. You can add in the time and set the sound that you would like in order to not keep setting things every night before you sleep.
Once you do this, the Sleep As Android app will detect your sleep deficit and chart it on a graph. It will also tell you at what time and intervals did your sleep go off and you were awake.
It will give you a chart on the time you were in deep sleep and accompany this with REM stages, light sleep stage and the conscious stages with bar graphs.
Noise snoring detection tells you when you disturbed the person sleeping next to you (if any). The graph through a speaker will tell you at what times you snore the most or when your sleep gets disturbed.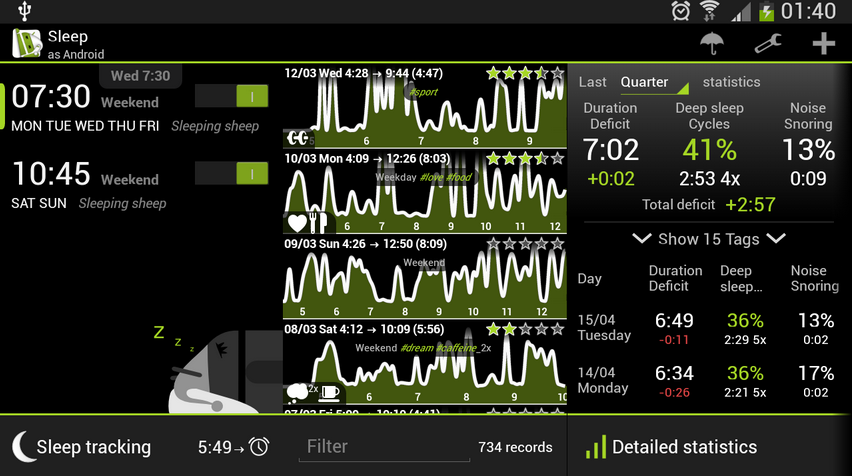 All of this is reflected as a percentage of the time in each stage so you know exactly how you slept and why you were grumpy or fresh the next morning.
You can do a comparative study where reports of multiple days are available right in front of your screen. Waking up and oversleeping too is never a problem as the app has multiple ways of ensuring that you have woken up.
This includes:
• A morning math problem
• Shaking the phone
• A captcha code
The Sleep As Android app also has smart light integration and smart wrist watch tracking. It also has an anti-snoring element inside it and has a sleep talk recorder to tell you if you murmured things you should or shouldn't have. With over 117 thousand reviews, Sleep As Android currently enjoys a 4.4 start rating. It is a definite try out to see how you sleep and enjoy the most pleasant dreams while you drift off.