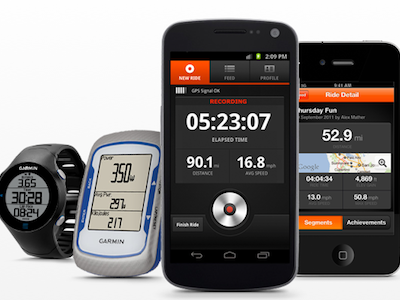 If you are someone to embrace challenges with a warm hug and are always up for some healthy competition and you know the importance of being fit, Strava Running and Cycling GPS is the app for you.
In this app, the challenge to get out of bed and to get yourself to exercise is going to be the least of your worries. This app actually gives you real time challenges to make your exercising routine fun. You can track your runs and rides with GPS, join Challenges and see how your running and riding compares with friends.
This is how it works:
TRACK YOUR RUNS AND RIDES WITH GPS
• Follow routes you have created or found and view your activity map as you record
• Get key stats like distance, pace, speed, elevation gained and calories burned
• Collect heart rate data from Zephyr HxM Bluetooth sensors
CLIMB THE LEADERBOARDS
• Set personal records and see how you stack up against friends, locals and pros
• Join monthly Challenges designed to push you further
FOLLOW FRIENDS
• Find your friends and motivate them with kudos and comments
• Share your activities on Facebook and Twitter
• Share Instagram photos from your activities on your Strava profile
FIND PLACES TO RUN AND RIDE
• Explore the most popular segments anywhere you go
GO PREMIUM
• Filtered leader boards by age and weight to see where you stack up
• Set weekly mileage or time-based goals and keep track of your daily progress
• Train more effectively with detailed heart rate analysis and see your Suffer Score
• Get your performance results immediately after completing a segment
• See which of your friends are currently out riding or running
• Stay on top of your game throughout the year with training videos
• Visualize your training with Power Zone and Pace Distribution analysis
• Access to exclusive Premium gear, Shop discounts, and extra rewards all year
• These Premium features are available through in-app purchasing
This app is especially good for those people for whom being fit is not a good enough reason to exercise. It is also for those who tend to get bored while working out and thus, end up not going for their workouts. Strava makes the exercising experience a fun experience wherein you can feel like a child again – competing with your friends just like you did during school sports days.
Addictions are usually considered to be bad. But if you have to get addicted, getting addicted to exercising regularly instead of playing Angry Birds or smoking cigarettes is a far better addiction to have. This app actually makes running and cycling addictive because of the fact that you can even compete with complete strangers to set new records and win virtual trophies thanks to its feature of breaking down routes and making them into publicly shareable challenges.
For those with a lazy streak, this app might prove to be your knight in shining armor and save you from an unhealthy lifestyle by camouflaging a workout in the form of a challenge. Ready, set – download!