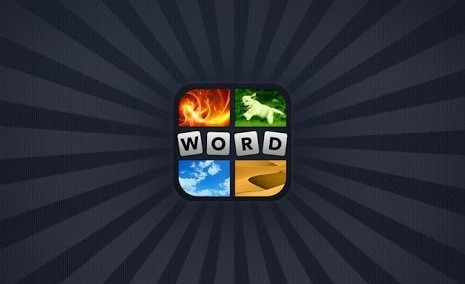 We've all played 'Draw Something' haven't we? The amateur artists starting point where Android users flaunt their drawing skills on digital canvas that happens to be their screens to draw a world of things gave have their opponent guess what they drew in return. Well, this cool new gaming puzzle app known as 4 Pics 1 Word is just as simple and addictive as that. And for those of you who didn't know much about the Draw Something app, the explanation above almost made up for it in a gist. But that's not the fun part about the app in question here. 4 Pics 1 Word does have a few things in common with Draw Something and a Pandora's Box full of additional awesomeness to serve you along with it.
For starters, the game is incredibly straightforward and has almost no learning curve but that don't mean you don't have to use your wits.
Although in Draw something you play against the opponent being a random player across the Android platform or one of your friends, here your opponent is the computer itself with puzzles on end for you to take up as challenged and dive deep into the depths of your brain to find out what the answer could be.
The interface of the 4 Pics 1 Word Android app is highly attractive and intuitively designed that will make users get revved up for an exciting game every time they click this app.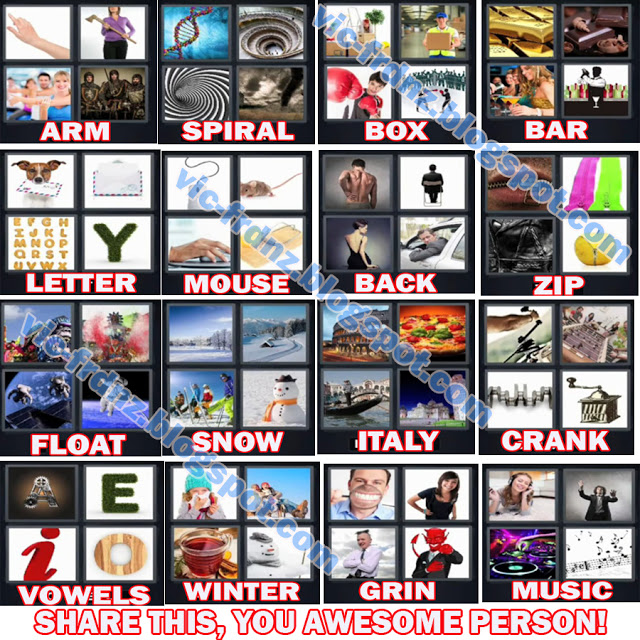 Core Strategy
Now that you're ready to kick off this intense visual puzzle game, you will start off with level 1. Each level has ascending levels of difficulty.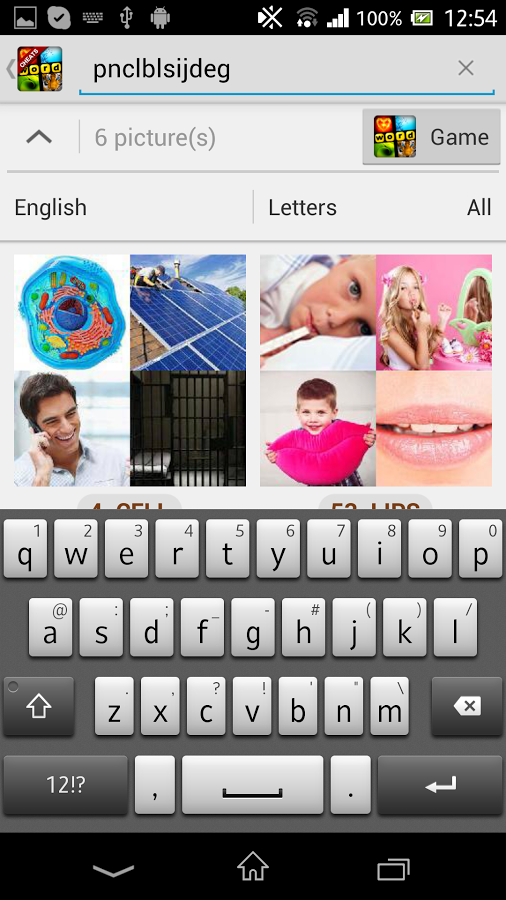 Level 1 represents four completely different images that are in some way directly or indirectly related to each other.
For instance – Imagine a Lotus, A unicorn, the cheeks of a chubby baby and a girly image of makeup. The first thing that comes to your mind or should ideally come to your mind is the colour 'Pink'.
If that didn't come to your mind, then it's alright. You can become an expert eventually by starting out with easier clues to navigate through, like for instance looking at the blanks in the word. If there are 4 blank spaces, you know it's a four letter word.
Additionally, to make the game easier, you also have a set of 12 letters down a few letters of which make up the core word. Once you guess the correct word, you will automatically move on to the next round.
But let's stay you're stuck and can't move ahead but really want to?
Well throughout the game, you have two options at the side in order to look at the correct position of a letter or to delete a set of letters from the option to narrow down the available letters to create the word from.
The game is based on coins and you keep more and more coins depending on how you fare in the long run.  It is important to note that using helpers will cost you coins.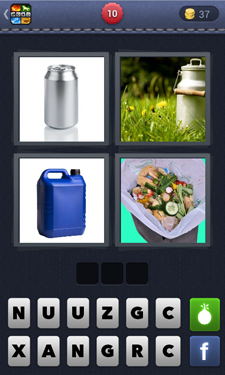 The graphics on the game are pretty fun to witness and the game is an addictive thing that goes on for levels on end. The new versions have bugs that have been fixed and the game is 21 MB in size.
Requiring Android OS version 2.2 and above, the game is fun-packed for maximum enjoyment and get you to put on your thinking cap and set your cognition into higher gear. So join the fun and get guessing!