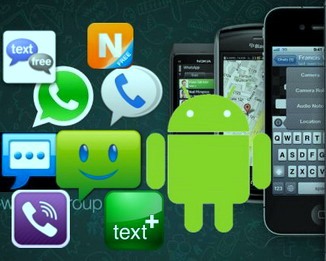 Text messaging has caught on big time and with messaging apps that are available on the Android platform facilitating them; they are getting better and better. Indeed, the text messaging apps on Android have made messages come alive. You can now send text, photo and video messages to your contacts in the manner you want, thanks to the customization features available now. The more adventurous and creative are even sending catchy GIF messages and entertaining their recipients while others are content with group messaging.
So Which Are The Apps That Are Providing Extra
This post is only about messaging clients that are for SMS and I have not gone into social messaging.
Hello SMS
app is a minimalist one that makes tabs of the conversations so that it is easier to switch between conversations. The design is neat and there is also the night mode on function that automatically turns on in fading sun light.
You can receive and send photos and with the addition of the GIF feature recently, you would be able to record a GIF and regale your contacts. The only possible downside is the camera viewfinder position very close to the text field. But other features like the actionable notifications permit you to reply or mark a specific message as having read it even though you have not opened the app.
This app is tidy but you would not be able to send photos with text and that may be a dampener for some.
Textra
This one is ideal for those looking to customize and are creative. You can for instance pick different notification colors for your contacts and also set alert tones to indicate and distinguish contacts. So it becomes easy for you to quickly identify messages from your parents, wife, girl friend or others. You can even set colors for all the chat bubbles and there are 3 themes of black, white and dark you can choose from.
The Textra also has a widget that pops up with each new text and you would be able to reply from the screen. You can if you wish, turn the widget for quick replies off within the setting. This app is great for customization but a little outdated.
EvolveSMS
This one is similar to the Hello app in terms of its streamlined design and allows you to make tabs of conversations. You can however swipe the screen to toggle between conversations and that is the difference in this one. Similarly, you can also tailor make the app design and also use the themes available to have a different look each time. However, that feature is a paid one and you will have to download the Theme Spotlight developed by the same developer who created EvolveSMS. A reply pop-up is also provided for you to reply immediately. This app enables group messaging and you can also block numbers you do not wish to entertain from sending you messages.
Excepting for the fact that you have to pay for fresh themes, this app is a great one combining the best of Hello and Textra.