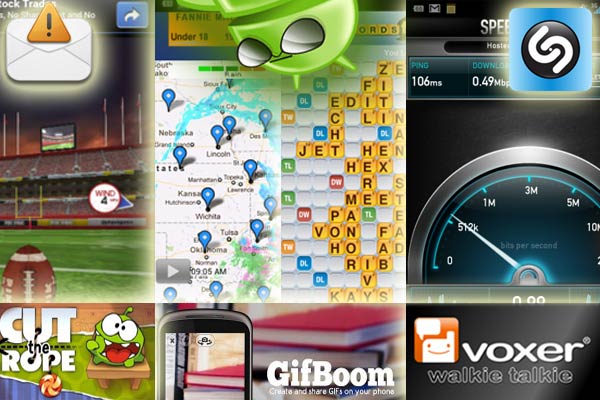 #10 SQUARE WALLET
Square Wallet is an ingenious Android app that allows you to make payments in the fastest and most hassle-free way ever with one-touch access on your smartphone. You can charge transactions directly to your credit and debit cards without having to shuffle around and search for them in your overstuffed wallet. You can also use Square Wallet to pay using your name, sending gifts to family and friends, and to discover new shops and restaurants to visit. To get started, all you need to do is download and install the Square Wallet app from Google Play Store and start an account by linking either your credit or debit card to the app. Once you have done this, you can simply tap the "Pay Here" button when you have finished shopping or eating and ready to make a payment. In case you want to further shave off seconds from this remarkably easy 10-second long process for your convenience, you can simply register and set up a "hands-free checkout" system for your favorite places that will allow you to pay with your name. Bonus features such as automatically tracking loyalty rewards, efficient management of receipt history, etc. are great assets to an already magnificent and innovative app.

#9 EVERNOTE
Evernote is a breakthrough organization tool that experienced tremendous popularity among people with both business and individual needs. It's not just a nifty organization tool but rather your very own virtual assistant that you can carry around in your pocket.  Evernote's objective is simple – saving your ideas and helping you increase productivity. You can follow through with this objective by making use of the rich variety of features that turn your Android device into an extension of your brain. You can easily take notes, manage schedules, make to-do lists, capture photos, set up voice reminders, etc. with one-touch access wherever you are. In case your Evernote saved database has become too big, you can use the efficient search function to recover exactly what you were looking for in a matter of seconds. It offers good cross-platform compatibility as it lets you sync and share all of your notes across the computers and other Android devices you use. You can even connect your favorite apps to your Evernote account and email notes and tweets to your Evernote account. Whether you're a chef trying to jot down your next big recipe, a housewife shopping for groceries in the supermarket, an accountant organizing receipts, contracts and bills, or simply a writer with a captivating idea, Evernote allows you to capture ideas on-the-go and use them as inspiration to drive your work forward utmost efficiency.
#8 CHROME
The Google Chrome browser has become one of the most popular and widely accepted browsers in the world. Renowned for its speed and simplicity, Chrome has become the platform of choice for users who prioritize speed and efficiency over unnecessary add-ons and gimmick features that slow down your browsing experience. Several Android smartphones and tablet manufacturers recognize the success and potential of Chrome and have begun using it as the default browser in their devices. Features like accelerated page loading, zooming and scrolling, multiple tab switching, private browsing, browser history syncing, etc. are just of few of the many fantastic benefits that give Chrome a competitive edge over other browsers available in the Android market.
#7 FACEBOOK MESSENGER
The Facebook Messenger app for Android devices is one of the most convenient messaging platforms for the 1 billion plus strong Facebook userbase. It is a free app that allows you to text your Facebook friends for free whether they are on their smartphones, tablets or PCs. To get started, all you need is to download and install the Facebook Messenger app from Google Play Store on your Android device. You can now simply log in with your Facebook account or just register your phone number to start using the app. In addition to sending free texts, you can also send photos and emoticons, receive push notifications, start a group chat, geo-tag your location, and collectively view your personal and Facebook messages via the app. These amazing features are available absolutely free of cost and only utilize your existing data plan to function effectively.
#6 VEETLE
Veetle is a phenomenal media-based app that delivers a mindblowing entertainment experience on your Android device by letting you watch and broadcast live video in high quality on it. This app allows you to easily browse, view and share live videos at lighting fast speeds. Veetle offers a wide variety of services that range from allowing you to share your own live video broadcast by pressing the "Go Live" option to watching a live broadcast from anywhere around the world. The rapidly increasing Veetle community lets you easily share popular video broadcasts with one-touch access on your Android device. It has a sleek and easy to use interface that lets you quickly share interesting events and personal moments through video broadcasts with your friends and family.
#5 STARBUCKS FOR ANDROID
Starbucks for Android is a dream app of ultimate convenience for customers looking for their next dose of their favorite coffee from the world's biggest coffee shop chain in the world. With Starbucks for Android, you can check your balance, refill your Starbucks card with any major credit card, manage your transactions and update your Stars in the loyalty rewards scheme of Starbucks known as the "My Starbucks Rewards" program. It is the quickest and most hassle-free way to pay for your favorite delicious caffeinated beverage and get your energy levels on track for the rest of the day. Starbucks for Android is the perfect companion to your card. Your Android phone will display a barcode that you use just like your card to make purchases at Starbucks. You can also use this app to find the nearest Starbucks store location in your vicinity.
#4 PHOTO EDITOR BY AVIARY
Photo Editor by Aviary is the one-stop shop for all your photo editing needs on your Android device. It is one of the most comprehensive and well-designed photo editors available in the market offering a plethora of beautiful customization options and a highly intuitive user interface. Although it may not have the popularity of a photo editing app like Instagram or Pixlr yet, it is still a solid option for photography enthusiasts who are looking for an easy way to edit and share photos on the go without any hassles. Once you have downloaded and installed the Photo Editor by Aviary app from Google Play Store, you can now pick any picture you want to edit from your Android device's media gallery and open it via the Aviary app to get started with the customization. Features like one-tap auto enhance, color balance adjustment, photo frames and effects, meme creator, redeye and blemish removal, fun stickers, etc. are just a few of the many amazing customization options you will have available in the palm of your hand through this fantastic app.
#3 UTORRENT BETA
uTorrent has evolved into one of the top BitTorrent clients in the world and is used by a massive media-savvy army of downloaders who are looking for the latest movies, music albums, books and softwares for free. The uTorrent beta app for Android smartphones and tablets brings the same convenient one-stop downloading platform enjoyed by PC users that can now be enjoyed on the go by everyone. This handy torrent app allows you to discover and download torrents directly to your Android device, play media content and subscribe to RSS feeds along with a variety of other useful features. One of the best features offered by the uTorrent beta Android app is that there are absolutely no limits on speed or size of your mobile downloads. You can also access exclusive media content from featured artists that are promoting themselves via this app. The only essential requirement that you need for running this nifty app without any hiccups is to get a good 3G or 4G data plan or to take advantage of a speedy Wi-Fi connection in order to get the best performance.
#2 GOOGLE WALLET
Google Wallet is a virtual wallet application for Android devices that stores your personal identification information, track special offers and loyalty rewards schemes, make payments by utilizing any major credit or debit card from Visa, MasterCard, American Express, or Discover in conjunction with the app.
It employs a simple and user-friendly interface that is heavily fortified by efficient security protocols that safeguard your personal and financial information. To pay in-store, you can simply pick the card you want to use, and then just tap your phone to any contactless point of sale terminal. The payment information will then automatically be transmitted via near field communication (NFC) after which you will receive a virtual receipt of your transaction with the appropriate payment and merchant name details.
#1 BLUE STACKS
Bluestacks is one of the most underrated apps of 2012 that offers some rather ingenious functionality for your Android devices. It allows you to sync all your apps to your PC and remotely manage it with absolute ease. You can sync and use a wide variety of games and applications such as Angry Birds, Words with Friends, WhatsApp, PicSay, WinAmp and Lorax, which will let you port the same awesome experience of your Android smartphone or tablet to your PC. To get started, all you need to do is download the BlueStacks App Player for PC for free from the BlueStacks website and then download the BlueStacks Cloud Connect app on your Android device to begin the app syncing process.