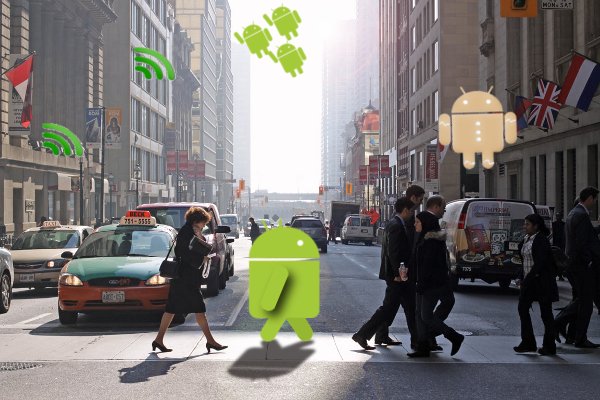 Augmented reality has become one of the coolest new innovations of technology with the "it" factor. But so far, developers have only begun to scratch the surface of its tremendous potential and explore what its "it" factor can do. Augmented reality (AR) is the process of using computer generated effects to enhance the elements of a physical image from the real world and combining them to give an enhanced view of the image in real-time. A QR code scanner is one of its most common and basic examples whereas a live virtual score board for a football game is taking it to the next level.
On your Android device, augmented reality collectively employs the use of your device's camera, GPS, and sensors to deliver an enhanced view of your surroundings by incorporating augmented graphics.
Here are the top 5 must-have Augmented Reality apps for your Android device.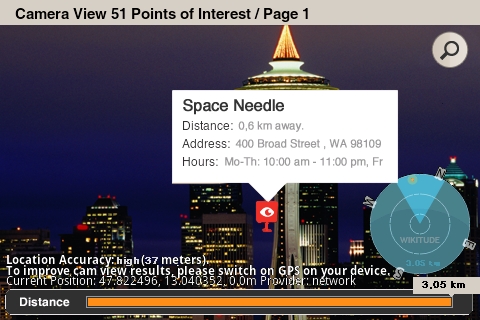 Regarded as one of the strongest contenders in the Augmented Reality browser market, the Wikitude World Browser is a virtual encyclopaedia for your Android device. It can aggregate additional data and reviews of different places around you by you simply opening the app and pointing your device's camera at the place. Once your Wikitude app has finished scanning your surroundings, it will then live-stream ratings, reviews and Twitter updates based on those places from servers to your Android device screen. This app will help you find the best restaurants to dine at, the best hotels to stay at, any special offers etc., near the place you have chosen to scan.
In case your favorite hangout spot does not have augmented content available for it yet, you can contribute your own augmented content doesn't have augmented content yet, worry no more for the app can let you add your own augmented content to share with the rest of the world. Wikitude also comes with some bonus augmented reality games like Spice Attack, Swat the Fly, Bubble Trap, etc., which are great fun to play around with.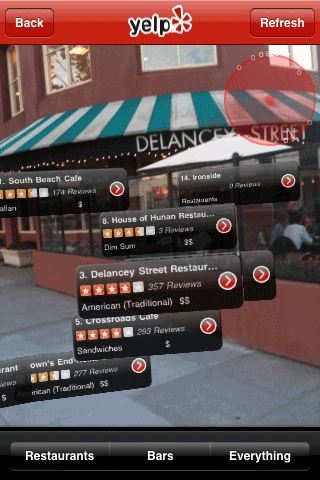 Yelp is currently one of the most downloaded AR browser apps for Android along with Layar and Wikitude. It is designed to be a personal tourist guide available with one-touch access. If you're discovering a place unknown to you and need help to find out info about that place, you can simply open up the Yelp app, scan your surroundings and instantly find any relevant info. Yelp helps you to search and locate various local listings of restaurants, hotels, gas stations, etc.
By simply tapping the "Monocle" button on app's main menu and scanning your surroundings with your Android device, your phone screen will now provide you a direct overlay of local businesses near you. It directs you to an information page with detailed reviews and user ratings of those local businesses. You can contribute your own personal review and ratings based on your own experience with a particular business.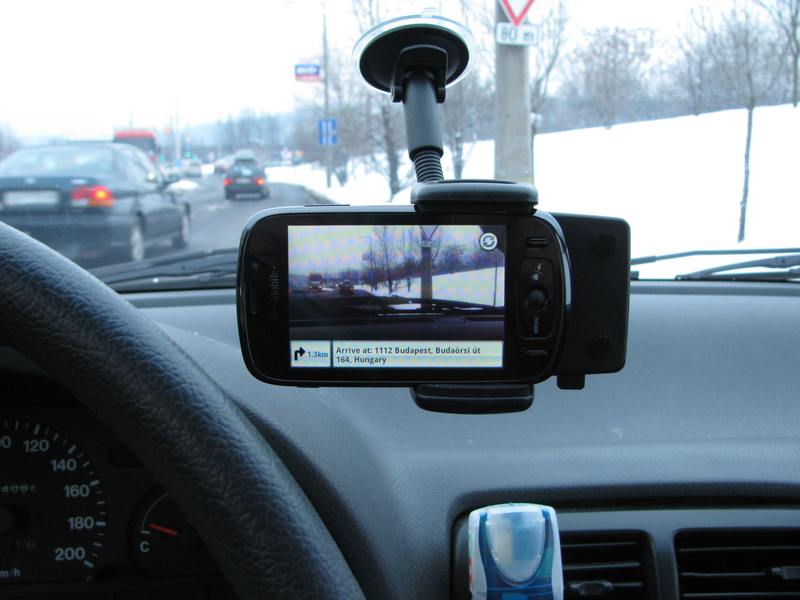 Google Maps is the most commonly used Android app for navigation. However, for users who want to truly indulge themselves with a great navigation experience supported by augmented reality, AugSatNav is the perfect app for your Android device.
AugSatNav does not simply use the conventional overhead map display for navigation, but even  employs the actual street view as seen on your Android device's camera to guide you to your destination. Based on your destination, the app will chart a route for you by highlighting the correct path to take with a white track on your scanned image. It will even display any turns to take with an arrow in the correct direction as you approach a turning point. It is the ideal app for checking directions while commuting because of the simplified and much more personal approach offered by it compared to other navigation apps.
 
TagWhat is the perfect application for Android users who live in highly crowded places. This virtual mobile encyclopedia app weaves in information with a great social experience for its users. It can best be described as Foursquare with augmented reality features. You can now track locations with your Android device via this app, and it will display information regarding a specific location in the form of interactive stories, videos and tagged pictures, that can be shared with your social network community.
You can input your interests in your profile and based on this info, TagWhat will help filter content like the nearest concerts, comedy clubs, stadium games, etc. You can add your own content to the TagWhat community by tagging any content you feel would add to the experience of other users.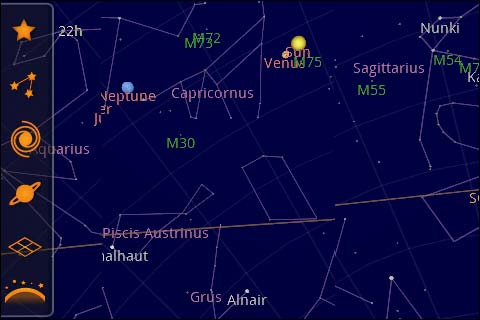 Google Sky Map is one of the most fascinating AR apps in the Android market, especially for amateur astronomers and night sky watchers. It is an educational which gives you comprehensive information on planets, stars, constellations, etc. around the Earth visible in the night sky. Using the search feature, you can simply input the object you want to track in the night sky, and then a mini directional circle will guide your tracker arrow to that object until you locate it. The Hubble image gallery feature provides even further vivid and detailed beautiful images of distant stars and other planetary bodies
The "time machine" feature in Google Sky Map is wonderfully integrated to give you accurate images of the night sky from any past time or date. The "Night Toggle" mode makes night-time gazing much more convenient by suitably adjusting the brightness and color settings on your Android device as you use it to scan the sky.