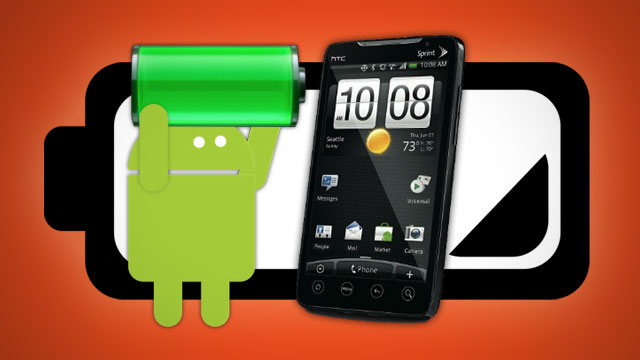 With nearly 700,000 marketplace apps to choose from, every Android user loves to take advantage of the exciting new applications and features available on their devices; however sooner or later, there comes a time when your hordes of applications start draining your battery power and forcing you to recharge your device multiple times during the day. Despite evolving larger displays and powerful processors, there is still not much progress in the smartphone battery technology. Therefore, it is essential to look for a great battery saving app to solve your battery conservation concerns and extend your Android's battery life much more.
We bring you 5 of the best battery saving apps you need to know of to find a great solution to your battery needs.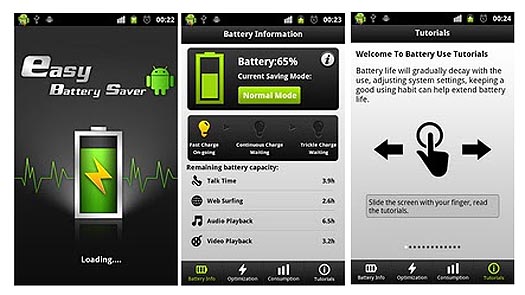 Easy Battery Saver – A highly effective app for good power management and battery optimization purposes for your Android device. While multitasking or in idle mode, Easy Battery Saver will routinely manage the network activity (Bluetooth/3G/Wi-Fi) of your Android device, and even adjust your Android device's screen time-out and brightness settings. It has 4 power-saving modes that can potentially make your battery last 50% longer.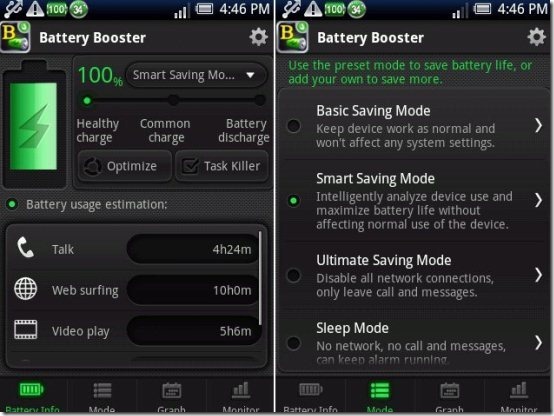 Battery Booster – Regarded as one of the coolest new battery monitoring apps by the Android community, Battery Booster is a unique app out of the pack since it has specific interfaces designed for both Android tablets and phones. Using a simple and clear interface, you can now monitor your battery usage completely and gain insights into which applications and programs are draining your Android device's battery power at a time. Batter Booster allows you to monitor your phone's battery status giving you real-time battery usage stats presented via graphs. It will show you the main info regarding your battery usage. It lets you easily toggle functions with one-touch access.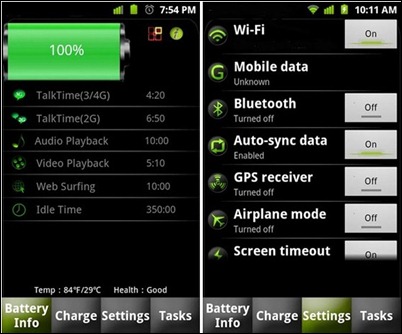 Battery Dr Saver + Task Killer – This dual purpose Android application acts as an excellent all-in-one tool that maximizes the potential for battery conservation of your device. Battery Dr Saver and Task Killer, are like the Sherlock Holmes and Dr. Watson of battery saving apps – combining two functions to track down what's hurting your device's battery and suppressing it. With a good user-friendly interface and individual tabs to access info on battery charge, tasks, and settings. The Task Killer helps in conserving your Android device's memory usage and it can also be used to clear your device cache and search history.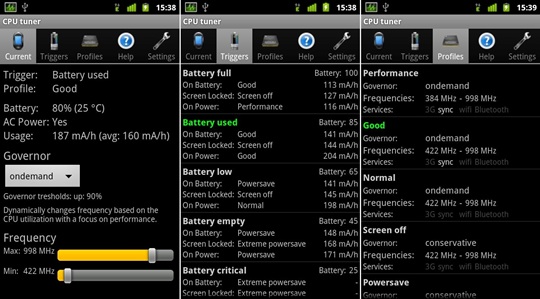 CPU Tuner – For all rooted Android device owners, CPU Tuner is the ideal battery saving app to possess. Using detailed stats, it delivers all the battery saving functionality of the best battery saving apps and more. What makes it stand apart from its competition is that its unique use of 'Triggers', which can empower your Android device to know when to toggle your Network/Data settings to further improve your battery usage.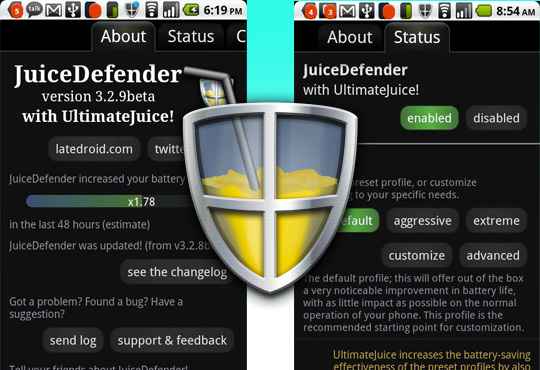 JuiceDefender – Regarded as one of the most popular and efficient battery saving apps by the Android community, JuiceDefender is a power-packed application that greatly enhances your device's battery power-packing ability. JuiceDefender gives you the ability to choose from five battery saving profiles. The default profile only manages the basic functions to optimize your battery life. However, the other profiles provide a more customized, aggressive and advanced solution to your battery conserving needs in order to maximize your battery power.