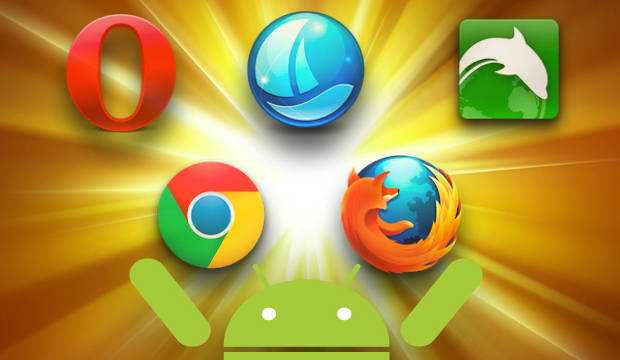 The internet has become so integral to our daily lifestyle that our ability to recall how our lives went on without it before it has become hazy. Browsing the internet is something nearly everyone engages in everyday, whether it is for work or recreational purposes.
Most of us are familiar with conventional internet browsers on our desktops such as the Internet Explorer, Mozilla Firefox, and Google Chrome. However, with the rise of smartphones and tablets, a huge userbase has now migrated to these platforms to engage in their daily browsing for the sake of convenience. Although your Android stock browser may be suitable enough to serve your browsing needs, there are many great browsers available in the Android app marketplace which can deliver even better functionality as per your needs.
Here are the top 5 web browsers available for Android devices.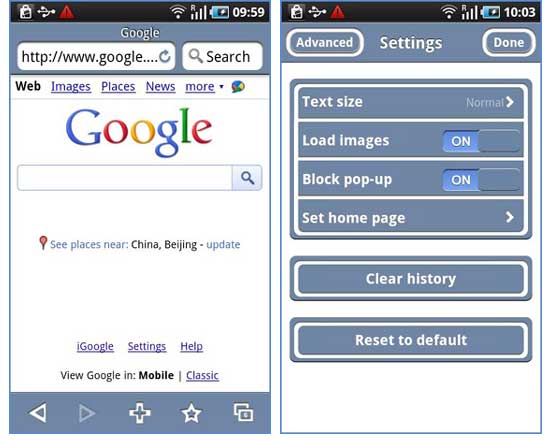 Back in the early days of Android, the stock browser was an efficient and well-designed app known as Miren. Boat Browser was one of the best amongst the next wave of Android browsers and eventually became an upgraded successor of Miren. Sporting a smooth, fast, and intuitive interface supported by fantastic add-ons such as the voice control search function, Boat Browser set the standard followed by most modern browsers today. The user interface has plenty of skins available and offers you multiple theme customization options as well.
Boat Browser also supports a variety of additional splendid features such as a full screen mode, customizing your browser by adding your favorite sites to the speed dial start page, user agent switching, download manager, and switching tabs by just pressing the volume up/down keys.
The Dolphin Browser ranks high amongst the line of alternative browsers available besides the stock Android browser. It firmly established the trend of gesture-enabled navigation which other browsers eventually adapted into their functionality as well. The user interface is sleek and very user-friendly. You can now open an unlimited number of pages while browsing by just tapping the "+" symbol, and navigate through all your tabs by swiping across the top. Using the "Gestures" feature, you can trace symbols on your Android's screen to access commonly used functions, for example – draw an "O" to refresh page, "N" to open new page, etc. The Sonar feature is the voice-enable search engine offered by this browser. All menus are setup as sidebars, and to access them you simply swipe inwards from the sides.
With over 50 nifty add-ons to integrate with your app including Dolphin Webzine, Dolphin Battery Saver, Web to PDF convertor, Wi-Fi charger, etc., the Dolphin Browser is one of the most customizable browsers available in the Android app marketplace.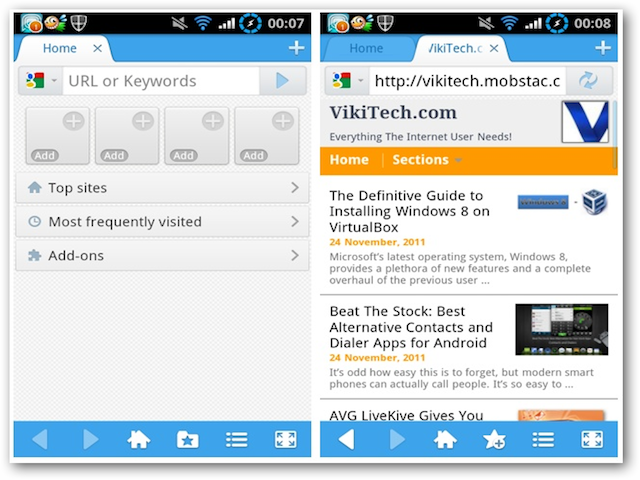 Currently in use by almost 5 million users, this Android-exclusive web browser is steadily picking up pace in the market for browser apps. It is a great alternative browser for users who are looking for speed and effective customization. Maxthon's minimalist interface is neat and remarkably fast and offers a plethora of tools and functions that will be greatly appreciated by even advanced users. The primary rendering engine powering Maxthon ensures that every page you open is properly optimized without any errors. It offers great in-built features such as a download manager, cloud syncing, full screen function, screen splitter, ad blocker, private browsing, etc. Despite all the great features offered by it, Maxthon still does not get too demanding for your Android device's RAM and works smoothly.
Additional features such as the excellent gesture-supported navigation, Quick back cache software, massive library of add-ons, and easy sharing via all social networking platforms, make the Maxthon Android Web Browser a worthy contender in the market of web browsers for Android smartphones and tablets.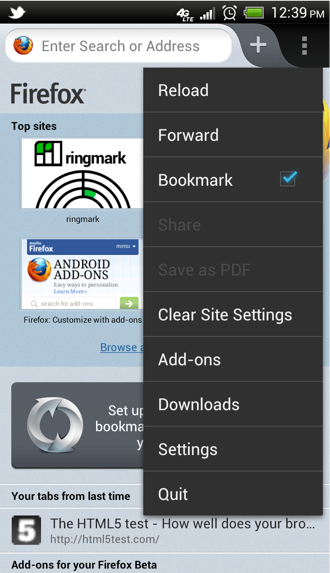 The Firefox browser is renowned for being the biggest game-changer in the landscape of web browsers and becoming the ideal browser to have for years. The Firefox Android browser carries forward the same effective functionality and ease of navigation as its desktop version. To open up the browser menus and bookmarks, you just need to swipe on the side of your Android screen. Once you start browsing again, this panel will become invisible so you can browse without any distractions.
You can also sync your desktop browser history and configurations with your Android browser. The key attraction for all Android users is the tremendous potential to tweak and tune your browser and personalize it for your convenience. Add-ons such as the URL Fixer, Reading List, Adblock Plus, etc. help enhance your browsing experience by leaps and bounds.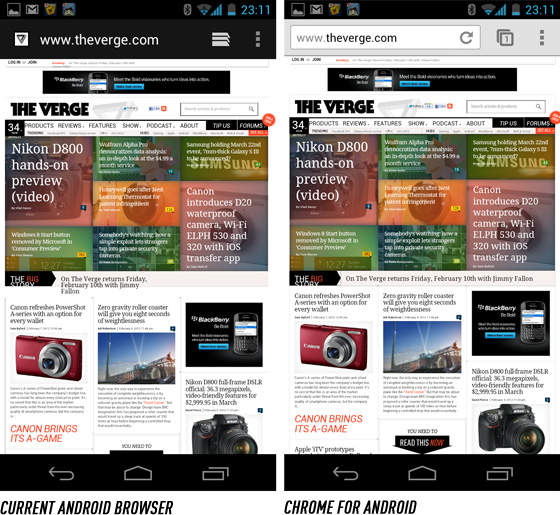 With the launch of the Android 4.1 Jelly Bean OS, the Chrome browser has finally established its heavyweight status by replacing the stock Android browser and taking its place officially. If speed is your prerogative, then Chrome is definitely the best option for you. Its slick user interface and enhanced navigation features are a great attraction. However, its key feature is the intelligent, quick-searching functionality offered by Chrome. You can simply input your Google account credentials in your Chrome settings and you will now have the ability to sync all your browsing history, bookmarks, tabs, etc. from your PC to your Android device and vice versa.
The power tabbing and voice-search engine features work incredibly well too. Chrome also allows you to opt for private browsing, exchange pages between your Android and your PC, and manage the devices synced to your Chrome account. The only major disadvantage of the Chrome browser is the lack of Flash support, which means that viewing videos using your browser may be frequently problematic.