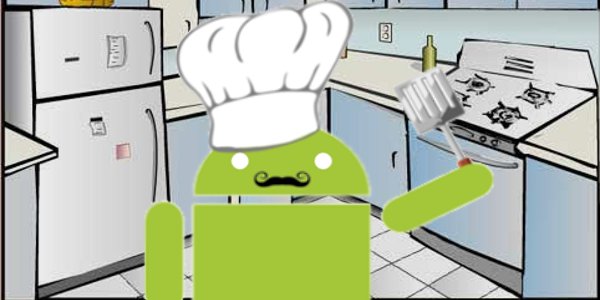 Not many of us ever gain the cooking expertise and culinary confidence as a Gordon Ramsey or Marco Pierre White; but with the wide variety of cooking apps available in the Android market, not many of us have to. There is no substitute for experience, but experience can certainly be refined for the benefit of those cooking-challenged enthusiasts who want to make their cooking worthwhile.
We bring you the 5 best cooking apps for your Android devices to cater to your culinary needs.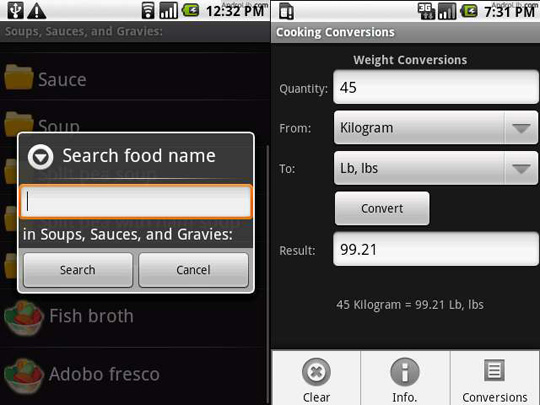 You may find a wide variety of recipes and cuisines available on the internet; however, you it may be rather confusing to understand the various units of measurement used in different regions across the world. You may be presented with a list of ingredients which have their units of measurement according to the metric system. Cooking Conversions is an application which converts it into the measurement standard you are most comfortable with, for example – metric to imperial conversion. This app will give you accurate conversions of all volume, temperature and weight units for the ingredients you are using. One of its other unique and winning features is that Cooking Conversions can also provide you with a great list of substitute ingredients to use for a recipe and will even give you advice on what products you can use as substitutes for certain ingredients in case you don't have the original list of ingredients available with you at the time.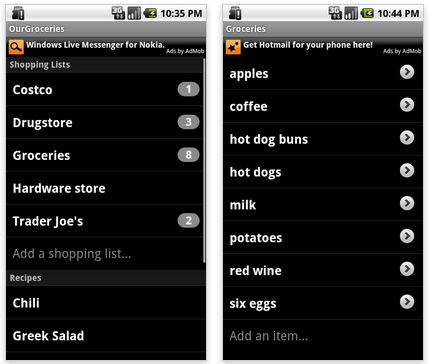 One of the key differences between a professional and an amateur cook is how well-versed they are with the ingredients for a recipe. So before you get started with preparing your Pasta Primavera and Vichyssoise, it is important to have all the ingredients needed to complete the dish with you. OurGroceries  aims to make your grocery shopping experience a piece of cake and give you an elaborate list of essential ingredients needed to take your cooking to the next level. Most home chefs do not have the luxury of a huge kitchen pantry; hence, it is highly recommended to go through the complete set of ingredients properly before you go shopping for them so you do not miss anything. OurGroceries compiles an efficient list highlighting every item you need to complete your recipe. This app can also be synced across all devices without any hiccups.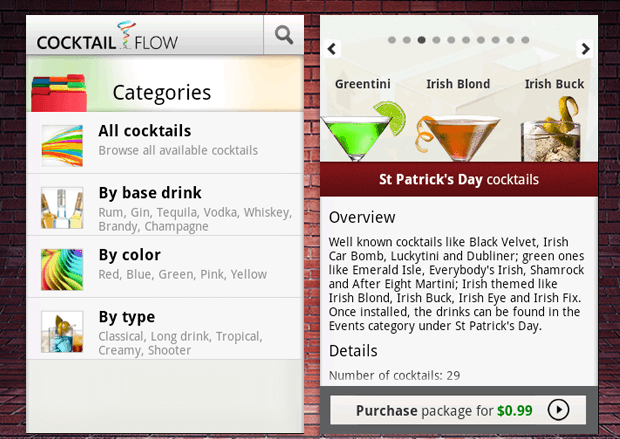 If you're planning to host a great party, good food may not be the only thing you need to appease your guests. An eclectic mix of cocktails on the table may help liven up the palate of your guests. Cocktail Flow is your one-stop Android app for all cocktail recipes. Using this app, you can easily find and browse through the recipes of the finest cocktail selections. The Cocktail Flow app also helps you prepare easy-to-make cocktail recipes which can be prepared using simple ingredients at home and does not require much shopping for. You can input the list of alcohols and other ingredients you have available, and Cocktail Flow will sort out the best-rated recipes containing those ingredients.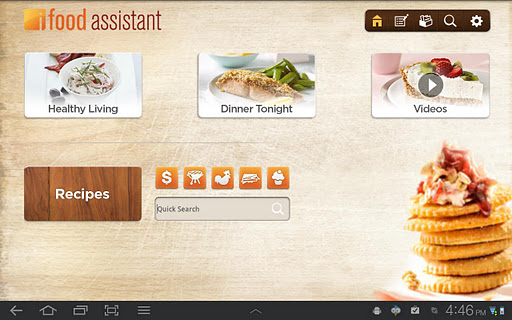 The iFood Assistant app for Android is a fantastic compilation of popular recipes which can be used by all cooking enthusiasts. Once you download and get started with the app, you can easily navigate through its user-friendly interface to narrow down on some of your favorite recipes. The search function in this app works very smoothly and gives you organized results based on the meal type, cuisine, preparation time, and many other categories.
Once you have selected a recipe to get started with, you will be shown all significant information related to it, including the list of ingredients, measurements, time of preparation, etc. You can also use the iFood Assistant to generate a nifty shopping list for you based on the ingredients you will need for a dish.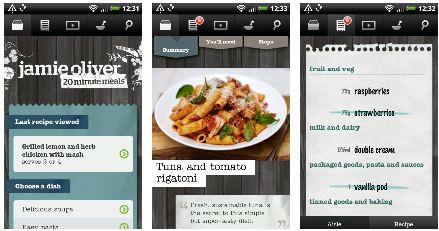 Jamie Oliver is one of the best-known and most popular chefs in the world. Jamie's 20 Minute Meals is an Android app that uses the expertise of his culinary experience and his team to deliver a unique app for cooking tips and recipes all cooking enthusiasts can try at home. With a selection of over 60 special recipes to choose from, it can be a handy new tool in your cooking arsenal.
However, it's unique selling point lies in the fact that this app comes bundled with cooking instructional videos made by Jamie himself teaching you both simple and fancy tricks to sharpen your culinary skills. With the help of these videos, you will now be learning how to make perfect steaks, pastas, chop onions, etc. much more efficiently. This app also comes equipped with ingredient search and shopping list tools. It is a must-have app for cooking enthusiasts who want to make a great dish in 20 minutes or less.