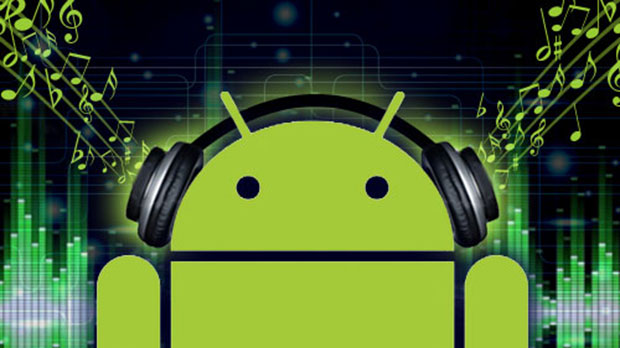 With rapidly evolving technology powering Android devices, they have quickly transformed into your new one-stop entertainment center and more than just a communication device. One of these great entertainment features includes using your Android as a great mp3 player. Nearly every user enjoys a good song every now and then to refresh themselves from the monotony of everyday life, and with a massive and ever-increasing catalog of music apps to choose from, you can now take music listening to new levels. We break down the 5 best Android music apps to choose from for all music lovers.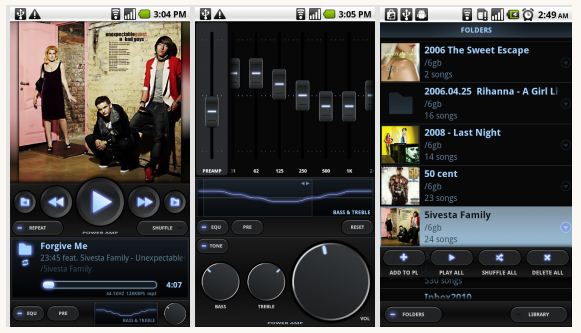 PowerAmp
Poweramp is one of the highest rated and widely downloaded music apps on Google Play Store. Its attractive customizable user interface lets you access and adjust any feature you want such as tone/volume settings, playlists, skip, rewind, forward, ratings, shuffle, etc. from the current song screen itself with one-touch access. Music junkies will love the Equalizer feature which comes with a massive range of preset settings that let you enhance the sound quality as you like them and ideal for the place you are playing your music. The lockscreen widget for PowerAmp is a great bonus feature which makes music navigation much more hassle-free as you can control your music player without having to repetitively unlock your Android device. PowerAmp is initially offered as a free download for a 14 day trial period which allows you to use this fully loaded app and run it at its full potential before you finalize your decision to purchase it. It is the essential music player app for Android and is a must-have for all music lovers.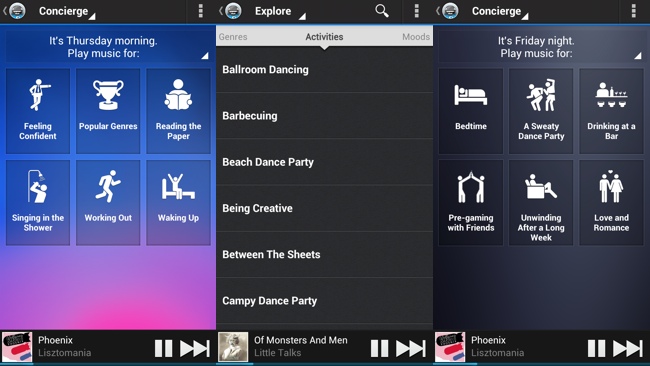 Songza
The Songza app for Android is one which takes innovation to new levels. It is a unique music streaming app designed to deliver the best music depending upon your mood. Songza's mood-based playlists and time-based suggestions are two amazing features which set it apart from the plenty of similar music apps in the Android market. For instance, if you use the app on a December night, you will be treated to a playlist of the best Christmas-themed songs; whereas, on a typical weekday morning, it will offer you a playlist filled with upbeat and energetic songs to help kickstart your day. You can also browse through a plethora of default playlists ranging in genre, activities, moods, music eras, etc. It switches to a simple and attractive circular view of your playlist collections for your browsing convenience. The audio streaming quality is excellent and the combination of its homescreen widget, in-line earphones buttons, and notification menu buttons offer some great music track control. You can even customize your own playlists to share with the rest of the Songza user community using the web interface.
The only nuisance experienced is the multitude of advertisement banners you have to navigate through while using this app; however, it is a really small price to pay considering Songza is absolutely free.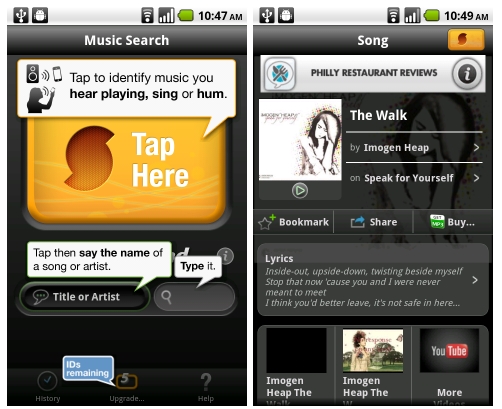 There have been hundreds of instances when come across an audio clip of a great catchy song over the radio or on a commercial but never quite manage to figure out the name of the song or the artist behind it. It is a rather frustrating experience indeed; however, SoundHound is the perfect solution to this long-standing nuisance and allows you to instantly identify any song you hear. All you need to do is provide a brief audio input of the song playing in the background, a few lyrics, or even your own voice simply humming out the song tune, and SoundHound will instantly identify its web database to give you accurate details of the mysterious song you wanted to know about. SoundHound will track and provide you access to links of the song mp3, video, and lyrics.
The app automatically saves any song search you have made for future references. It is better-rated and reported to work more accurately than similar song-searching apps like Shazam. You can also share your found songs directly on Facebook or Twitter with your friends to gain some app credits. Its premium version costs $4.95, but the free version of the app is good enough to manage your song-searching needs without any hiccups.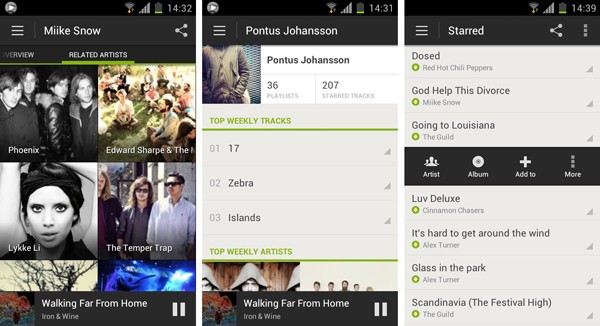 Spotify
A common complaint made by the Android community is the lack of an integrated music service station like iTunes which offers both music playing and music discovery capabilities. Spotify allows you to play songs from a massive mainstream songs catalog of over 15 million songs, customize playlists, and get recommendations using the Spotify engine. It also gives you the fantastic feature of storing your music locally on your Android device to avoid any playback interruption when you go to an area where you are not getting reception.
With its intuitive and beautifully designed interface, Spotify makes music navigation a super smooth experience. Your songs can now easily be synced with your computer over a Wi-Fi network, allowing you to maintain a multi-platform organized music service. It can be downloaded as a 30 day free trial service or you can upgrade to the Premium version which allows you to store playlists offline and takes away the advertisement interruptions.

TuneIn Radio is one of the best streaming apps available on Google Play Store. It redefines radio as a larger-than-life experience. With over 2 million worldwide on-demand programs to choose from, it offers some of the most diverse radio content and not just high-quality music. Simply tap the "Music" button to get access to a huge variety of genre-based stations for Indie Rock, Pop, Classical, Hip-Hop, Reggae, Oldies, etc. Its DVR-like functionality is remarkably unique as it allows you to pause, rewind and record your favorite radio songs or other programs on your Android device. This app allows you to save your favorite stations and recommend similar stations based on your viewing history. You can also listen to a great compilation of podcasts and news programs via TuneIn Radio
Bonus TuneIn features like the sleep timer and alarm which can be assigned to any of your favorite stations along with a car mode feature which increases the button sizes for easy one-touch navigation while you drive your car. It gains a slighter edge over the popular Pandora app as it is not region restricted and is available worldwide.