Managing our personal finances is something we all must engage in frequently to maintain financial prosperity. In fact, it is one of the central aspects of our life. However, not all of us have the financial expertise and proficiency to be effective at managing our finances. Fortunately, the fruits of evolving technology are now helping ease the burden of the common man in the form of a fantastic variety of personal finance apps.
To help you transform into an instant home finance expert, we bring you a comprehensive breakdown of the 5 must-have personal finance apps for your Android devices.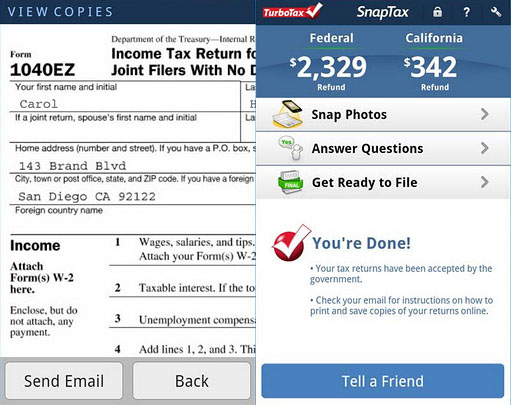 TurboTax SnapTax
No matter what business or job you do, everyone knows about the annoying headache that the annual tax filing season brings. As if sorting through hundreds of financial documents isn't challenging enough, you also have to sit through a bevy of tax forms with complex financial jargon.  The TurboTax SnapTax app for Android is designed to make your tax filing responsibilities a piece of cake and a huge time-saver. This app supports the electronic import of your payroll, investments, and even your mortgage interest details aggregated from a database of over 400,000 financial firms, employers, and payroll services.
Filing your taxes via TurboTax is as simple as uploading a picture of your W-2, answering a few simple questions related to your income, followed by finally reviewing and securely e-filing your tax statements. It is highly recommended for people who just need to file a simple 1040EZ; however, if your tax statements are too convoluted and require closer inspection, then seeking the assistance of a finance professional might be more useful. This is where the "Ask a Tax Pro" feature of this app shines through. You can ask one free question to a finance expert who will answer your query within 24 hours. For further queries, you will have to pay an additional charge.
You can file both your federal and state tax returns for just $24.99, which is a bargain compared to the exorbitant fees you may have to pay a finance professional to do the same job.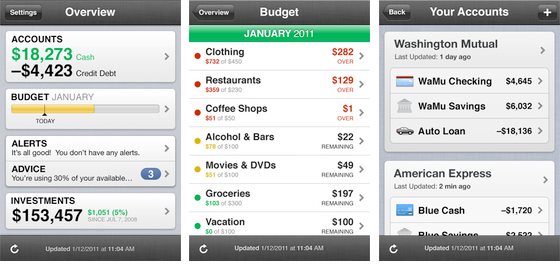 "Financial portfolio management" is a big term with an even bigger and more daunting implication. Managing and monitoring your cash flow and expenditure is a major challenge, especially with the increasingly busy lifestyles of people. The Mint app for Android looks to resolve that problem by becoming your virtual financial assistant available 24/7.
The Mint.com Android app is your one-stop solution for personal financial management offering a variety of useful services such as allocating budgets, tracking your expenditure and spending habits, and make comprehensive logs of your cash flow. It conveniently aggregates all transaction details related to your personal bank accounts and investments in one place, which can be accessed even without internet access. The vivid visual interface presents your financial details beautifully in the form of colorful charts and graphs, while consistent email and text alerts ensure you are always aware of any upcoming bill or mortgage payments.
Don't worry about anyone hacking into your personal finance accounts. Mint.com for Android is password-protected and even if you lose your phone, you can log on to Mint.com and disable device access within minutes.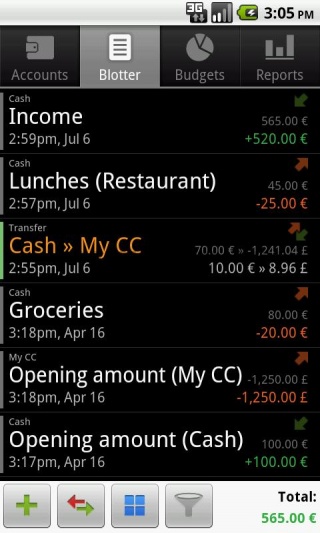 Financisto is a fantastic and innovative open-source personal finance manager. It provides a plethora of important financial tools to manage your bank account info, check currency exchange rates worldwide, make budgets, schedule transactions, import and export QIF/CSV files, etc. The organization of your personal finance details is remarkably easy with the availability of hierarchical categories whose attributes can be further customized as per your needs.  In addition to these great services, Financisto is renowned for its acclaimed customer services that carefully invest time in understanding and resolving nearly all customer requests.
One of the key features offered by Financisto to its users is the ability to sync and back up all your financial information on cloud-based platforms such as Google Docs, Google Drive, Dropbox, etc. Financisto also comes packed with a nifty camera-based feature that lets you snap a photo of any of your financial documents and attach it as a supporting document for a transaction made. Although Financisto does not have a rich visual interface supported by graphs and charts, it makes up for it with its extensive set of customizations and absolutely free service.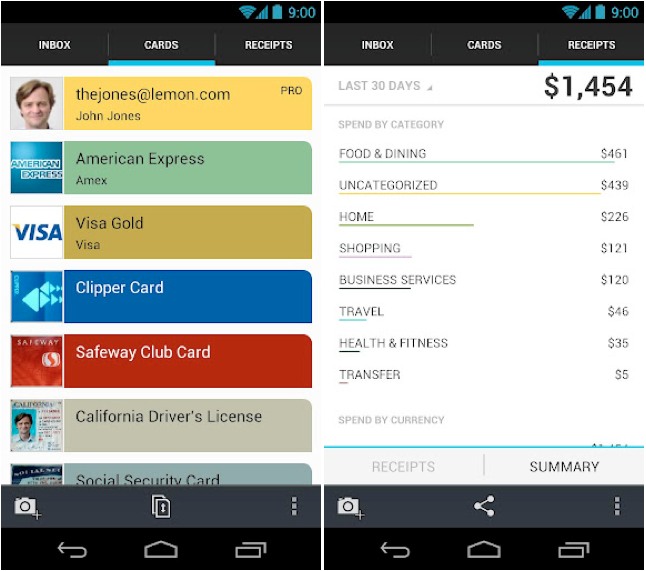 Lemon Wallet
Lemon Wallet is a great new smart wallet app which allows you to store digital copies of all your important IDs, receipts, credit cards, tickets and coupons on your Android device available to you anytime and anywhere with simple one-touch access. Sporting a stunningly beautiful and highly user-friendly interface, you can easily navigate your around adding and managing receipts, tracking expenditure,  and creating  digital backups of all cards stored in your wallet. You can even keep scanned original copies of your stored financial documents just in case of emergency verification.
Lemon Wallet currently offers one of the best security solutions to safeguard your financial data in the mobile wallet app market. Lemon also offers much more flexibility and innovation by letting publishers build their own cards inside the Lemon platform or create cool add-on services to offer discounts and special services to other Lemon Wallet users.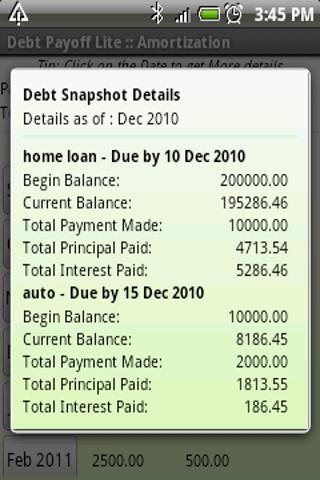 Loan and mortgage payment is always a pressing concern on the back of the mind of anyone who has opted for such payment methods. In this gloomy economy, it's especially important to stay on track and monitor all your debt payment plans to avoid any kind of financial trouble in the future. The Debt Payoff Planner app for Android employs the snowball technique (tackling small balances to reduce your debt first) to find the perfect debt payment plan for you.
It offers great features like a monthly Snapshot View, multiple strategies, pre-payment, promotional rates, amortization, graphs, e-mail and Excel support. It has an optional encrypted password protection feature. It is currently rated as the best debt reduction app in the Android app marketplace. If you're struggling to stay afloat with loan payments, mortgages, and credit card debts, then Debt Payoff Planner is the perfect app for you. It helps you figure out and prioritize which debt payments need to be paid off first and plan a better strategy to pay off your debts faster.