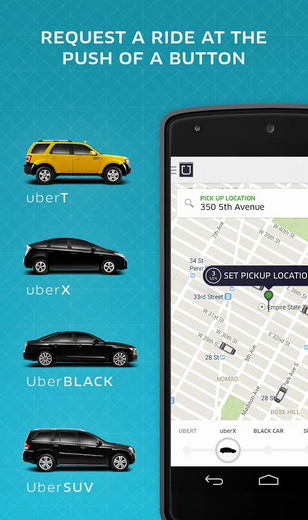 The apps you have on your Android phone so far allow you to communicate with people on the online world. They also allow you to play games and compare score to individuals playing the same game on the same online space. They essentially allow you to be on top of all your important personal and work commitments at the touch of a button no matter where you go.
Enter Uber – a one-of-a-kind travel app for the Android platform that enables you to communicate with the outdoor world but that's not all. Imagine an app that will actually allow you to let it service you to an extent where things come to your doorstep once you are done interacting with it.
Uber is an app that maps your location on the basis of where you and allows you to get picked up in case you need a ride. In simple words Uber is a cab service that you order cabs through using your Android powered devices.
It may sound simple and in actuality, it is even simpler.
The Uber Android app asks you to specify your location and select the kind of car you need to pick you up. You don't even need to tell the app where our exact location is.
The app's features and the cab integrated service will do that for you. At times you may find it too hard to even believe how well the app works. The app boosts of over 100 locations in 36 cities that it caters to and brings cab services world around.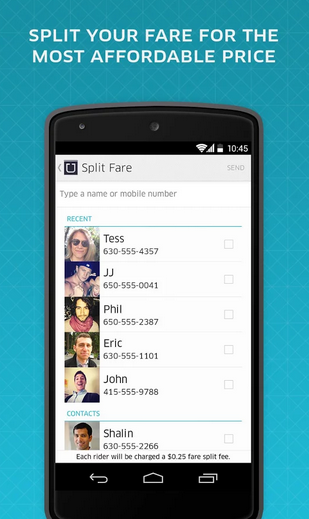 With the push of a button, a cab will be on its way to come pick you up and drop you off to your destination without any hassles.
You even have a choice of cars in the list coded as the following:
• Uber T
• Uber X
• Uber Black
• Uber SUV
Once you are on the Uber app, all you need is to know how to read maps, and once you can do that you will see that the driver location as you requested for is right on your screen and live tracking as to where the driver has reached is visible in real time on your screen.
You also get a notification saying 'The Driver is arriving now'.


The Uber app then allows you to pick a driver too and this includes a 5-star driver as well.
What you can also do is split the fare in case you are alone and look for people through the app who are looking for a route on the same place as you.
Uber will pull out a list for you of all the people looking for a cab in the location and pick the route, and you're good to go.
The payment options too are diverse and easily accessible. You can either use Google credit or use your Paypal account to make the payment.
The guys who the back-end work for the app will send the bill to your location and you can pay it there too if you wish to do so.
Further, Uber also allows you to pay using your phone and your bill will be shown to you on your screen. You can leave a comment too.
Finally, if you're lucky enough to find one, use the coupon code to pay in case of promotions to lower your cost. And whilst you do all the above, don't forget to enjoy the ride!