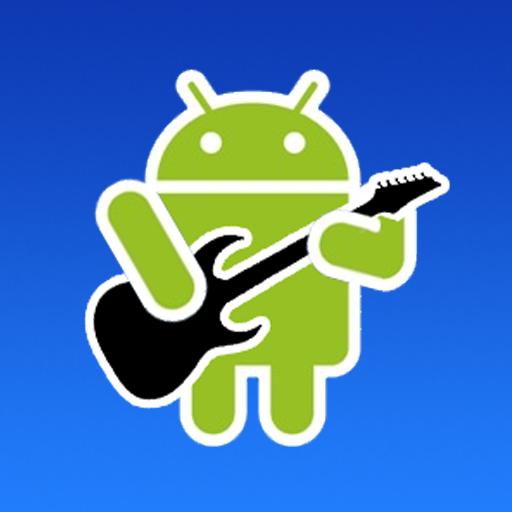 As a kid, we've all had that one defining dream to grow up to be the next guitar god like Jimi Hendrix and Jimmy Page. However, not all of us were able to follow through our guitar learning commitments because of the lack of time and difficulty to get the right info to stay on the right learning curve.
For those of you still willing to realize those childhood dreams and learn to strum along to your favourite tunes, here's an awesome Android app that ensures get right back on track to your path of becoming a great guitarist.  The esteemed music app we are referring to is none other than Ultimate Guitar – an online hub that is the Google of all guitar tablatures covering every possible song played till date.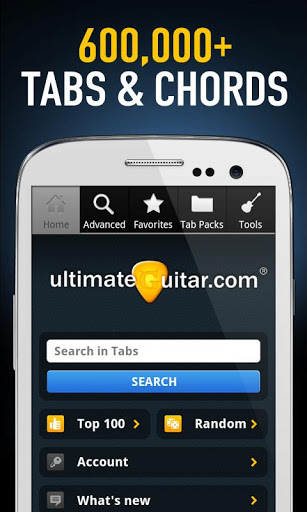 Its online database has been followed by the world of guitarists to master songs from the start to end and from top to bottom, with each note nailed perfectly to recreate your favorite songs exactly as you heard them via your guitar.
Ultimate Guitar serves as the largest source for chords and versions of it through its online dictionary of tabs.
Ultimate Guitar has taken that giant step forward and integrated Android mobile devices and tablets to its services, with its application performing all the functions of the regular online site plus a few bonus features specifically optimized for ease of use on your Android touch devices.
Ultimate Guitar chords and tabs can be opened on the home screen with a search bar that gives you access to over 600,000 songs. These include:
–          Song Chords
–          Tabs
–          Multiple versions of each song
–          Songs in multiple tunings
–          Versions within each tuning
Other than plainly searching for specific songs, you could even experiment with opting to check out the top 100 tracks at that particular point in time, which keep changing frequently, and help you stay in touch with the top trending songs in the industry.
You could further experiment and click on the Random tab as well and give songs in that list a try.
Check out what's new on the tab and save lists and songs to your account to view it later as well.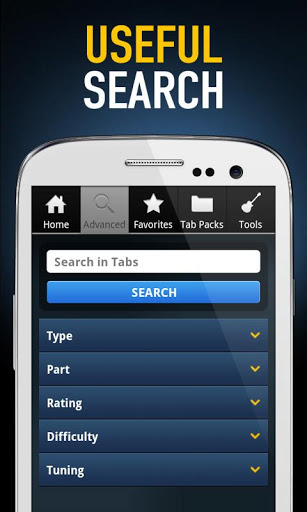 An absolute cracker of a feature is the offline mode with offline access to your favourite song chords and tabs.
The advanced search menu gives you refined search options including search filtering by type, part, rating, difficulty and tuning.
Ultimate Guitar provides basic chord diagrams for every song progression so that you are completely spoon-fed all essential details for the song you are looking at. Every chord is presented in a neat diagrammatic representation of the 6-strings.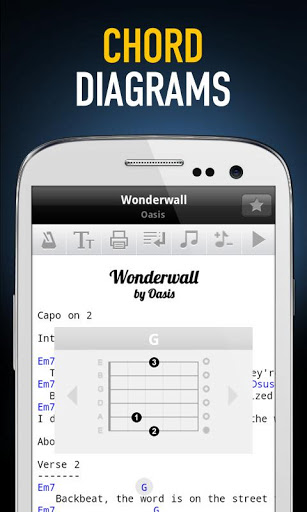 And finally it has an auto scroll feature thrown in there to ease the use of the app.
An addition to the above core app can be made by adding the extensions that are available separately on the Play Store but at a small cost.
These include the Tab pro
Here you have an all free access to over 150,000 interactive tabs with sounds playing in the background so that you can play along and master the timing perfectly.
You have instrumental track in the form of each instrument as well used in a song that will help you dissect the composition of the song better and make it easier for you and bandmates to play in synchronization during rehearsals.
Additionally, the Ultimate Guitar app also provides a loop and a tempo control as well.
The second extension is that of the Tools.
–          These extensions have tuners for multiple tunings like standard, half step down, drop D and various other alternate tunings.
–          A metronome to hit each note at the right time and maintain song tempo
–          A detailed chords library
Many more such add-ons and extensions are available through the play store to make you playing more efficient and for you to gain mastery in the art. So what are you waiting for? Get on board with Ultimate Guitar and reclaim your rockstar dreams by mastering some face-melting solos and cool riffs.