Twitter clients for Android have already filled the Android app market close to a saturation point; however, FalconPro is one such Android app that succeeds in stepping out of the shadow of its competitors and looks well set in closing in on their popularity with every tweet. Biz Stone's revenue generating, information disseminating, trendsetting Android app has become quite a phenomenon in a short span of time and has taken the app market by storm, and with this, the clients for Twitter on each operating system get more and more competitive with their game.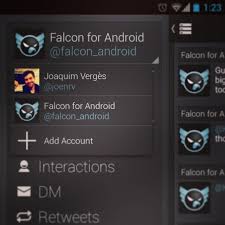 Hashtags, @mentions and direct messages alike have been covered with superb proficiency by the FalconPro app? So where does this app succeed in going that extra mile to show that it's got something that the others don't? We'll tell you how!
The Falcon Android app does pretty much the same with its social networking management strategy by following the same principles of basic tweeting and adding in a set of cool tweaks to the interface for improving functionality for users. It has been built after careful analysis of the mind of the average tweeter in order to give them the best optimized tweeting experience yet. With FalconPro, you've a super slick Android twitter app at your disposal.
Majority of the Tweeple would prefer using a dedicated Twitter-oriented app; however, given the level of overreaching sophistication prevalent in other apps that try to integrate multiple social networking platforms on one interface, it can turn into a headache for someone who just wants to easily navigate his Twitter feed. FalconPro is designed to rectify this issue by filling in as a proper niche app that caters precisely to the needs of Twitter lovers.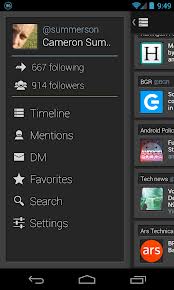 Falcon pro hones its typical black interface with the picture of an angry bird, not the one that we all know but the falcon logo.
On logging in with Falcon, of course your Twitter account is the first thing you see with your Twitter feed displaying a huge list of tweets in real time. Each set of these new tweets will be popping up on the app screen as you read them.
A refresh button at the top exists that enables you to get the new tweets in case they don't load.
The tweets are displayed over a slick black background and are presented in a neat and readable text.
On tweeting, the keyboard appears in the blue and black colours of Falcon and looks pretty simple yet attractive for a keyboard. Re-tweeting, direct messaging and @mentioning people too is extremely easy as all of the above is simply manoeuvred by the Falcon app.
A great feature of the all is that of the sliders to the left and right. All this while you may be wondering where you see the trends on twitter.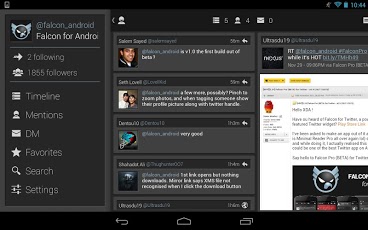 This easy to slide out feature pulls out your lists and Global and local trends that you can see, locate hashtags and tweet in your tweets to all your followers.
On the other side of the screen is another slider that appears on pulling out through the left hand side.
This tells you all the followers and the people you follow. It also shows you how much you have tweeted and where all you have been.
This also gives you the direct display of your time line and @mentions, direct messages and DM's.
With only a 9.3 MB download size, Falcon will not be creating much of a load on your Android device and you will keep getting treated to regular updates for the app from time to time.
These updates are on the interface front and you are rest assured of good tweeting when you use Falcon.
And if you do have any grievances simply use the power of the app you are using and tweet to @falcon_android and wait for them to reply and you're good to go. Falcon will help you streamline all your Twitter activities on one intuitive and ultra-efficient platform that adds a layer of simplicity and sophistication to your social networking life.