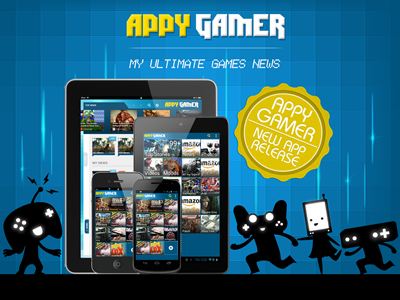 Coming straight from the top developers on the Android platform, Mobiles republic unleashed another one of their ingenious brain child apps on Google Play Store. This creation calls together the gaming geeks around the world glued to their consoles and Android smartphones and tablets 24/7.
Seldom are there apps on the Android world that cater solely to the needs of us gamer freaks and hardcore fans, and for a world that grew up playing games like Half Life 2 and Unreal Tournament more than a decade ago, limited casual games like Candy Crush and Angry Birds is not satisfying enough. Luckily, the Appy Gamer app for the Android world seeks to bring something to keep the dedicated console and PC gaming enthusiasts that make them feel right at home.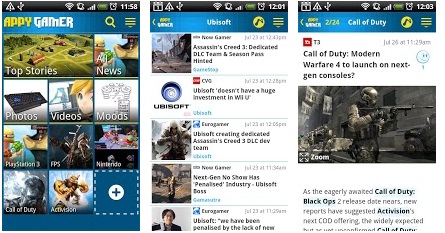 The core objective of the Appy Gamer app is to provide a streamlined gaming news platform to keep gaming lovers informed on everything they need to know about current and upcoming games and gaming hardware.
Appy Gamer utilizes a smart and popular interface that mirrors the Windows 8 tile display interface. It was something that took the world by storm and has been mirrored by thousands of other developers ever since, and this app is no exception using these display tiles to highlight top gaming news pieces. Appy Gamer is where all the news is brought to you in the form of moving tiles with information stuffed into your screen leaving you clueless where to start from given the magnitude and velocity of available data and news feeds on the internet.
Whether you're looking for reviews of Naughty Dog's blockbuster game The Last of Us or just checking up on the latest E3 updates related to the PS4 and Xbox One, Appy Gamer will bring you the most relevant and top ranked articles and videos based on what you are looking for by just a click of a button.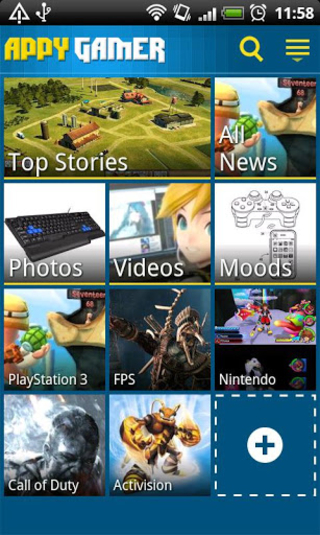 You start off by creating an account. You can also start off by telling the app the categories that you like.
These will be available to you in creatively designed tiles and you can select each category by clicking on it.
The categories displayed in the Appy Gamer app interface are as follows:
Top Stories
All news
Moods
iOS
Photos
Videos
Apple Inc.
Android
iPad
Google
Call of Duty
Fifa
Angry Birds
Game charts
Nintendo
EA Sports
PS3
PS4
Technology
Xbox
Apart from these, there are a lot more exciting categories from the gaming world that dedicated gaming fans would love to explore.
Once you click on these, the Appy Gamer app knows what all to display next when you log in. It presents articles and videos presented through its cool interface as tiles that highlight the latest hot news and reviews on the topic you have chosen. This content stream is refreshed regularly.
The tiles are big and small and can be tampered with as per you likability and can be moved from one place to another too. Each place you enter is accompanied by animations that will make you go whoa!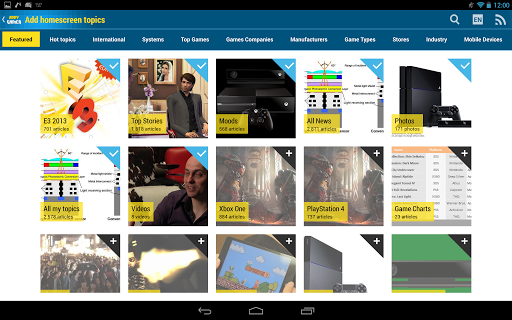 Let's say you enter in the Apple Inc. page. You see a compilation of news that has occurred recently to the oldest article in the list each accompanied by a picture and a one liner describing the news post.
* Once you enter the app, you can read the article and change between articles by swiping from left to right.
* Get a view of the tags and trends with flawless animations that revolve around an in built globe.
* Also chose a circular list view or a regular scattered 'trending view'.
* Share articles to Facebook and Twitter, Email, Evernote, Dropbox and many other social media channels directly through the article.
* Enjoy hyperlinks in built within the blog/news to travel from one place to the other that gives out relevant information.
* Check out related topics on games from the options drop down menu and change the look of your home screen to optimize it the way you like to see your news.
Appy Gamer's interface, the graphics and the quality of content all score a 10/10 and for all true lovers of videogames, this one's a keeper.