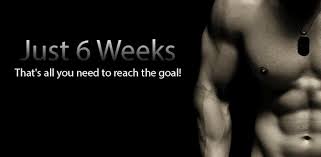 Health and Fitness is of primary concern nowadays. It is because of the reason that the era is fast-paced and people find it difficult to manage time for physical activities. With the advent of technologies like smart devices, cloud computing and social media platform, we have become lazy and dependent. This has undoubtedly increased the health concerns worldwide.
Just 6 weeks is an app that can help one get into shape with its distinctive features. There are hundreds of push-up and sit-up techniques demonstrated that can help you build a picture-perfect physique in only six weeks.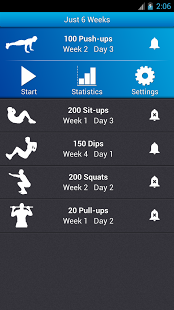 6 weeks: The way it works
It claims that we can forget the demanding workout schedule and depend on our smartphone for fitness benefits. It has a user-friendly interface comprising of reminders, statistics and workout tactics that is also convenient and easily customizable. It basically has five different types of programs – 100 push-ups, 200 sit-ups, 150 dips, 200 squats and 20 pull-ups.
The functional and sequential possibility of delivering performance by the app is as follows:
All the integrated programs can be used in any combination. This not only suits the individual preference but also is effective in producing results.
A particular level is selected based on the performance in fitness test.
There are workout reminders that can be activated within the desired schedule.
An automatic 'rest timer' is included in custom settings.
The resultant statistics of a workout is extremely detailed.
Workout intensity level can be adjusted to our own comfortable zone.
The interface is distracting and lets you concentrate on your exercise.
Mixed Reactions
Though the app is less complicated, one needs to religiously follow it to see results. This app has given positive results to a few as of now. For someone looking to make their body athletic, this is just the app as it heavily emphasizes on bodily exercise rather than lifting heavy weights. It also is effective in case of beginners; the progress tracker motivates many to continue with the routine.  For many, it may seem that the training starts easy but gets complicated and difficult to keep up with, later. And, difficult situations during a workout session indicate the effectiveness of a particular program. The app is well-structured and efficient in terms of results. All in all, one can safely conclude that this app is more than effective.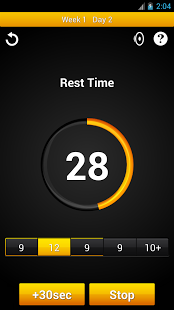 Lite version
A new and revised version is now available. The list of upgrades include languages, reps selection in each of the sets, slowdown fixes that were earlier prevalent between sets & sound timers, increased overall performance.
Final Verdict
It is an easy to use app and is result oriented if followed strictly. Users and fitness enthusiasts are of the opinion that it should exclusively updated with more exercise types and related info. But one needs to be patient to see results as the effect is gradual, though progressive. Besides, this app can be fitted within the busiest of schedules to work on.