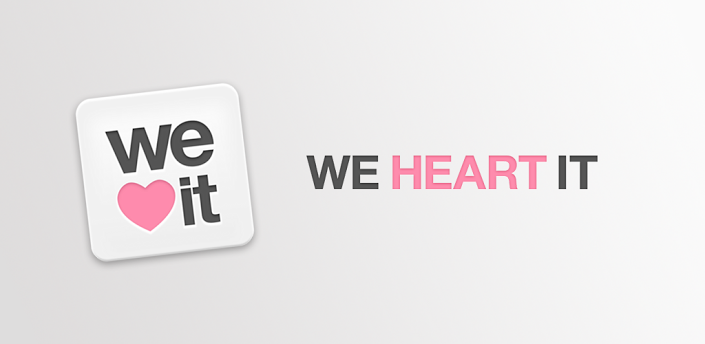 Social Sharing is on the high and what's a better way to share things in the World Wide Web than doing it with a visual touch? If your answer is still in a negative, try checking out what 'We Heart It' has in store for you and prepare to change your mind, for the fervent photographer or for the amateur Joe who takes pleasure in all kinds of imagery, We heart It is an Android app that's meant for everyone.
The We Heart It app is simple in concept and sophisticated in its execution. It is based on sharing, following and befriending people with common interests so that you can explore photography from multiple perspectives and different parts of the world including USA, Brazil, Norway, Singapore and hundreds of other countries.
Once you're set into the app you can see the 'Explore Images' tab and the 'My friends images' tab. Here a list of photos will be made available in a list view through thumbnails.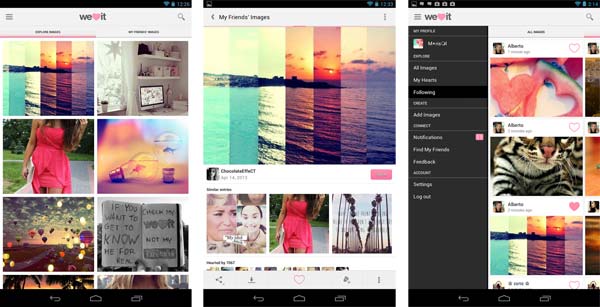 All of these images are randomly scattered and aren't category specific.
The images though are in great HD format. Once you shift to the right what you see is the list of images that all of your friends have added and uploaded.
These friends can be sourced directly via Facebook or Google and can be added through the app directly as well if you particularly like somebody's photography.
In a variety of colourful, vivid, artistic, vintage, and black & white styles what you get is not only high quality images but gifs and videos in a surreal set of imagery.
The search function lets you search for unconventional categories like hipster cat with glasses, Hair Trends, Music, product images, Fashion and accessories, clothes and what's new in the market, places, lights, night, photography and a lot more.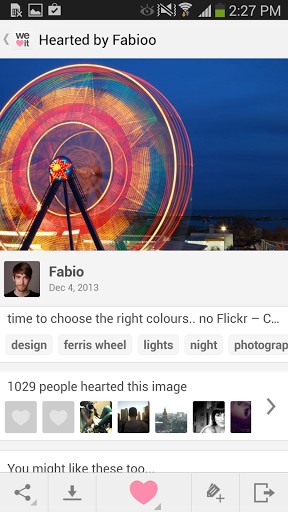 Even within the explore tab you can see all the images that are possibly therein your list and only these that you have liked, or as the app would call it 'My Hearts'.
You can also follow people who aren't your friends so you can see what they're uploading and posting.
All of the engagement on the app is generated through the notifications panel which will tell you what new images you're friends uploaded and what new images the world of people have saved up especially for you to see.
The We Heart It Android app has a gallery too where you can add in all the images you have liked or directly save it to your phone and additionally save it as a wallpaper directly too.
What you can also do is create groups that are better known as sets on the app. Here you can categorize images that are tattoo ideas, festival greeting images, party decorations, and home décor.
The We Heart It app also allows you to add in images from external sources that are directed to the app too. Here you can add in images from other sites, blog posts from your social media networks, etc.
The We Heart It app is pretty much up there with the top photo-sharing platforms in functionality and is already riding an impressive wave of popularity in the market. Sitting at the top with a gracious 4.5 stars rating on the Google Play store, We Heart It is most definitely a photo sharing app you should consider using.