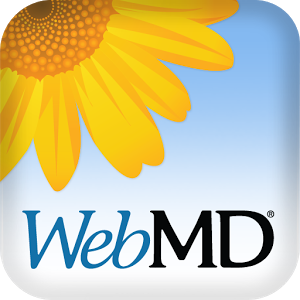 After a long time I am covering an app that has got nothing to do with rooting. This is because I came across it and felt it is amazing and very vital so I had to share it with you. There are some apps that you need to have, that you need to prioritize, that are more important that amazing HD games. Since health is the greatest wealth and life is very unpredictable, today's app is one of the rare essential apps we all should care about over all the silly games and fun apps.
Today's truly helpful app is WebMD which gives a 24/7 access to health information and decision-support tools. WebMD for Android helps you with your decision-making and health improvement efforts by providing mobile access 24/7 to mobile-optimized health information and decision-support tools including WebMD's Symptom Checker, Drugs & Treatments, First Aid Information and Local Health Listings. WebMD the App also gives you access to first aid information without having to be connected wirelessly – critical if you don't have Internet access in the time of need.
Some of its key features include:
• WebMD Symptom Checker – Select the part of the body that is troubling you, choose your symptoms, & learn about potential conditions or issues.
• Conditions – Find medically reviewed information about Conditions relevant to you & learn more about causes, treatments, & related symptoms.
• Drugs & Treatments – Search our extensive database for information on Drugs, Supplements, & Vitamins. Access content such as Uses, Side Effects, Warnings, and more.
• Pill Identification Tool – Identify your prescription drugs and over the counter medicines by pill shape, color, & imprint.
• First Aid Essentials – Your handy guide for medical emergencies. From insect stings to broken bones, helpful treatment tips are always available, even without an Internet connection.
• Local Health Listings – Find the closest physician, hospital, & pharmacy based on your current location or search by city, state or zip.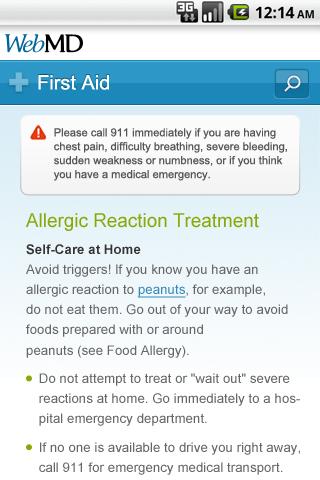 There are also a number of personalization options you can can utilize such as:
• Create custom lists of Drugs, Conditions, and Articles.
• Save custom lists securely.
• Review your saved information anytime and anywhere.
Amazing right, well..there is more because it has some additional features as well:
• Native Voice Search Functionality – Search WebMD with their voice for a condition, drug, treatment or first aid topic.
• Maps – View local health listings & individual Physician, Hospital, & Pharmacy locations in a map view.
• Get Directions – Enter your primary address once in app settings and get one click directions.
• Email Friends – Send your friends medically reviewed content covering First Aid, Conditions, & Drugs.
• Email Me – Quickly send yourself content with one click. Simply save your email address in app settings.
• Content Updates – Timely content is updated automatically.
• Tour – Swipe through a quick visual tour of key features and navigation.
Accidents can happen anytime, anywhere. But this does not mean that we need to live in constant fear. Yes, prevention is better than cure but it is not always possible. Neither is the availability of a doctor at any given time, anywhere. Therefore, downloading WebMD is like having a first-aid kit in your phone!