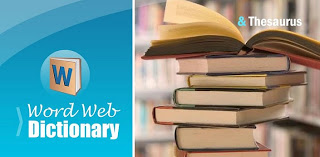 Oxford, Cambridge and Webster have all well-established themselves as pioneers in the world of spreading etymologically derived syllables from the Latin language; in other words, the key developers of the modern English language. From the same set of word crazy people comes WordWeb, an online dictionary that now makes its way into the Android world. WordWeb is a portal to learn more and more words through the app and spread the knowledge subsequently.
The Wordweb app is for free and can be downloaded from the Google Play Store.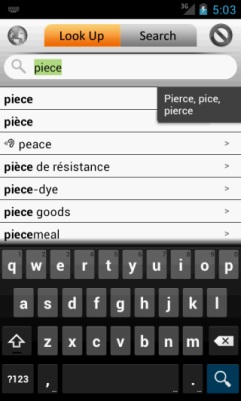 It is extensive and consists of a large set of words to learn from.
The comprehensive WordWeb dictionary database includes:
– 285,000 words, phrases and derived forms with meanings and usages with the respective parts of speech mentioned alongside.
– 70,000 usage examples in sentences to get a clearer picture of how to use the word.
– 225,000 word sense definitions
– 85,000 text pronunciations with a pre-recorded voice over.
– Synonyms, similar and related words are available too just like a thesaurus operates so that the same word can be used in a different way using different syllables all together.
– WordWeb supports N. American, British, Australian and international English
WordWeb comes along with an intelligent word entry system that suggests alternate spellings in case you have misspelt an entry.
These words that the computer feels is a possibility will be displayed in addition to just a correction of the word.
In addition to this, whilst looking up a word, you may also access similar sounding words like bear/bare and confused words like nonetheless v/s nevertheless too.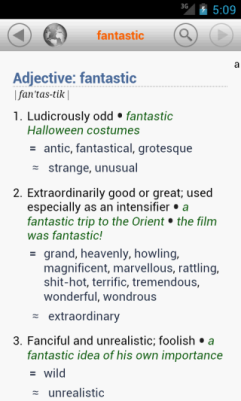 WordWeb also allows you to drill down onto a particular word till you reach the end of the definition. This means each word can be clicked on and the meaning of the word will keep popping up. This may continue till the word has no further meaning or you reach the end. Further you can do the same for words in a sentence.
Many a times you may not get a word in the definition of another word and this is where the above feature ay come in handy.
WordWeb also supports a fast pattern matching search.
You can further filter results using verbs, nouns, adjectives and adverbs as well.
In each session all the searched for words are saved un the drop down so you can view these words in case you have to recollect then in the future.
A new and profound addition to the world of WordWeb is that of Proper nouns.
So when you search for the name "Christopher", it may just lead you to Christopher Columbus and pages packed with cool trivia on him, or search for Alexander and get an overview of the bold Greek conqueror's life in front of you.
In another great addition to the Wordweb app, as followed in the lines of what's being going on in the world outside, words in the form of their abbreviations have also been added.
So next time your elder folks use WordWeb to search for a ROFL or an LOL they will get a legitimate answer that you don't have to go pay visits to Urban Dictionary for.
To conclude, WordWeb is an absolute must-have app for your Android devices as it highlights great features that an ideal dictionary app must have and is positioned to be one of the strongest performers in the educational apps segment.