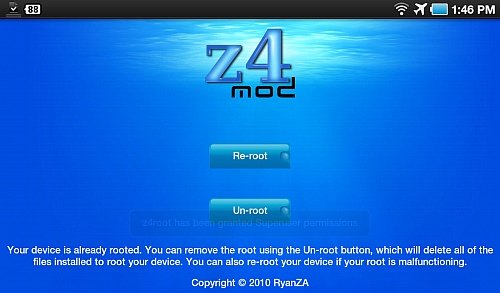 If you've spent some time researching Android rooting software, then you may have stumbled upon a program called Z4Root. Z4Root is a free rooting program that – unlike other software – doesn't require users to connect their Android to a computer.
Instead, the app is downloaded onto the Android itself and then run like any other app. It's available for free as an apk file. Simply download it onto your Android and then run a file manager (like Astro File Manager) and click on the apk file you just downloaded.
Once you've done that, Z4Root will start up and begin rooting your device. Once the process is complete, you will have root access to your phone – all without connecting it to your computer or performing any other operations.
Unfortunately, Z4Root has encountered major problems ever since it launched. Since the app is run directly from the Android smartphone or tablet, there is a much higher likelihood that something will go wrong and brick the device.
Problem 1 – Large number of incompatible devices
With other types of Android rooting software, some incompatibilities are to be expected. Very few rooting programs root all Android devices in the world today. In fact, that feat is basically impossible to attain – especially since every device has a slightly different version of Android.
But with the Z4Root rooting method, there are more incompatible devices than most other Android rooting programs. Z4Root does not work on all of the following devices:
-Desire
-Desire HD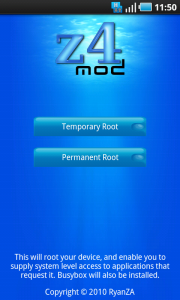 -Evo
-G2
-Magic
-Archos 70
-myTouch 3G
-Wildfire
-Droid Incredible
-MyTouch Slide
-And plenty of others
Problem 2 – Lack of updates
Z4Root was first designed in 2010. Since then, there have been a handful of updates to the application, although these updates are inconsistent and always seem to be months behind the curve. That's why Z4Root – if you can get it to work – is best used as a rooting application for older Android devices. It's not an ideal way to root newer Android devices, and it may even turn your new Samsung Galaxy S3 into a brick.
Problem 3 – A confusing interface that lacks description
You can't expect much out from Z4Root. After all, it's a free program and the developer depends on donations in order to keep the program updated. Given that, the program's interface is not so bad. But for Android users who don't want to read troubleshooting instructions or detailed manuals, Z4Root might not be the best way to root Android.
From the very first screen, Z4Root gives users a choice between two options: a temporary root or a permanent root. The app doesn't tell you that a temporary root is what 99% of users choose because it's the one that generally works. But users who want to permanently root their device might unwittingly choose the permanent root, only to find that the process stalls mid-operation or encounters some other problem.
One advantage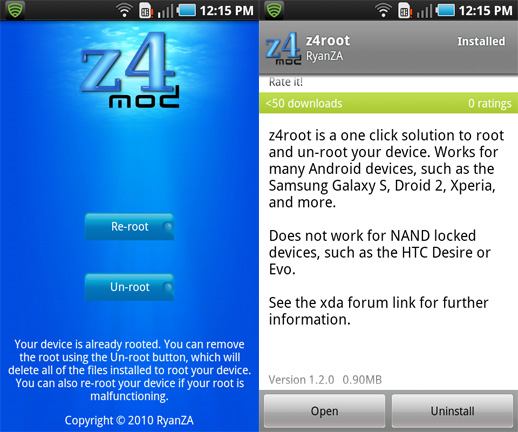 There is one advantage to using Z4Root – it shouldn't hurt your device in any way. Instead of tearing apart the core databases on Android and performing other complex operations, Z4Root simply changes root binaries.
What does that mean for you? Well, if something goes wrong with Z4Root, then you can simply reboot your device to fix it. Z4Root might not always work, but it doesn't kill your Android in the process.
Conclusion – Z4Root isn't updated enough to be user-friendly
Z4Root has a few advantages – it's free and can be downloaded directly onto your Android device. But these advantages do not outweigh the downsides. Since Z4Root has a good chance of not working – or even bricking your device – it's tough to recommend installing it on any Android device.
The way the program stands now, we do not recommend using Z4Root. If the software ever gets a comprehensive patch in the future, then things may change. But until that point, there are plenty of much better solutions available to the Android community.