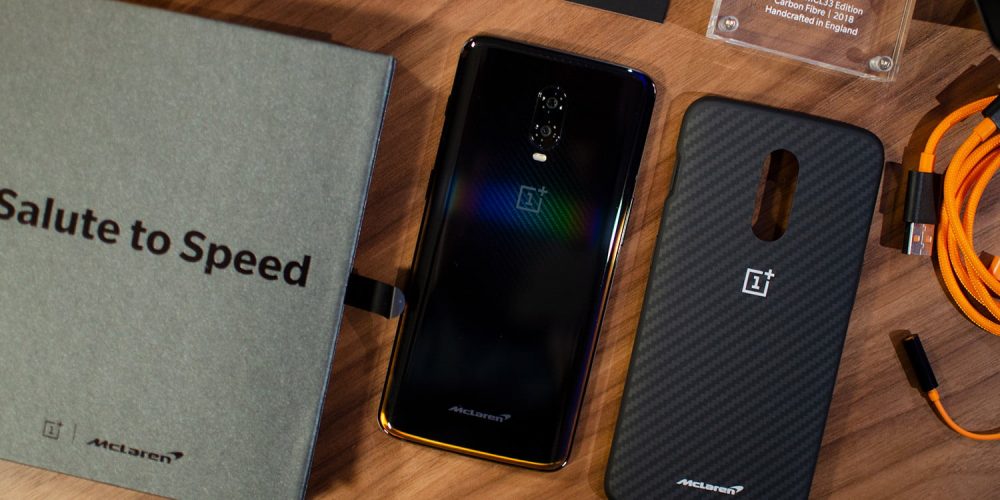 Luxury car companies have partnered with smartphone companies to provide special edition phones for brand fanatics with deep pockets. This year's most sound devices were Huawei in partnership with Porsche and Oppo with Lamborghini. Now, OnePlus is not giving up the race before the years end.
OnePlus is proud to introduce the new OnePlus 6T McLaren special edition.
McLaren Signature Color
Like other car-themed phones, the changes for the special edition OnePlus 6T McLaren is mostly visual. The case has been improved to a black carbon fiber design with the brand's signature color Papaya Orange around the rim. Allowing a fairly solid impression from the bottom and fading towards the top. Very sexy.
The phone was designed to look like the car brand's 2018 Formula One challenger McLaren MCL33. There are also special details added like the in-display fingerprint sensor reader animation showing orange accents.
Device Engine
The McLaren special edition One Plus 6T is equipped with 256GB of storage and is one of the few devices in the world with 10GB of RAM. Other devices include Xiaomi Mi Mix 3, Black Shark Helo, and Nubia Red Magic 2.
You might ask yourself, what's the purpose of having a 10GB RAM? Well, there's not much difference in terms of performance. But it does count if you want to boast about your special edition smartphone. Besides, this will come in handy in preventing the phone to lag despite having too many apps installed.
Right out of the box, the McLaren phone includes a special 30W "warp charge 30" charger with a braided orange cable. This charger is said to be capable of providing a day's power to the phone in just a matter of 20 minutes. However, this is not fully charged yet. A full charge should take about 30 to 40 minutes.
This charging capability is about the same as Oppo Find X Lamborghini Edition's VOOC Super Charge that can charge a 3,400mAh battery in full for just 35 minutes.
Other specifications remain the same as the regular One Plus 6T.
The device also includes an orange and black 3.5mm headphone jack adapter, a special transparent plaque, and a booklet about McLaren's history and explaining the design ported in the OnePlus 6T. The booklet has interesting photos about the McLaren vehicles and drivers. Truly a collector's items.
Pricing and Availability
For McLaren superfans, the OnePlus 6T McLaren will run you US$699, 699 euros, and 649 pounds.
This is way cheaper compared to other car-themed smartphones. The Porsche Design Huawei Mate 20 retails for 1,049 euros while the Oppo Find X retails for 1,699 euros. These phones provide premium specs. So, don't expect too much from the OnePlus GT except for the 10GB of RAM.
The phone will be first available in Western Europe and North America on December 13. The phone will then launch in China, India, and Nordic nations after the pilot release.
Are you an avid McLaren fan? Don't miss the chance to own this special edition McLaren phone. This is a perfect phone for your everyday use.