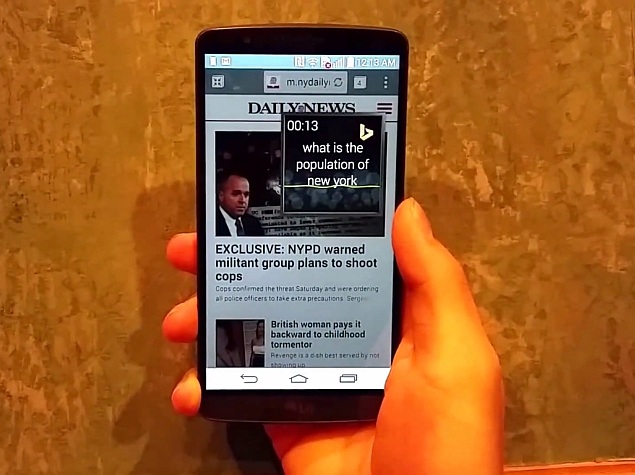 Microsoft has come up with one more app for the Android users of smart phones. It is called Torque and enables the user to just shake the phone to conduct a voice search. This is similar to the Google OK functionality and the only difference is this app can be used by shaking while you have to speak the keyword into the Google app. This app will like the Google OK one provide instant answers and useful information pertaining to flight timings; stock rates, weather updates, sports scores and restaurants would also be given.
Changes In Torque Itself
This app of Microsoft when it released in October could be used only on select smart watches running Android. Moreover, then you had to activate it by flicking your wrist. Considering that Android Smart Wear is still a growing market and would not find many users making use of this app, Microsoft thought it prudent to make it compatible for the Android smart phone users and that is a smart move. This app has already been downloaded more than 10,000 times and indicates its popularity even at this early stage of its launch.
The version 2.0 release has more instant answers and can also provide status reports on flights along with information on local events. The search is powered through Bing. Though there were some bugs spotted by testers in version 1.0 with the app not responding promptly to wrist movement, which has been ironed out satisfactorily.
Microsoft Active With Its Android Applications
It is interesting that Microsoft is going full steam ahead with its development of Android applications. It is looking beyond its own flagship applications such as the Microsoft Office, the OneDrive and the Xbox. It is a clear indication that Microsoft wants to engage with the much wider ecosystem of the mobile world. Microsoft is aware of the tremendous potential existing in this space and wants to position itself to take advantage of the growth in the months to come.
Torque has been developed by none other than Microsoft Garage which is the group that is into exploration as well as experimentation of cross-platform applications. This organization was formed in 2009 with an object to link the engineering projects of Microsoft engineers with the consumers to get firsthand knowledge of their utility and feedback.
This initiative has proved to be useful for both customers and Microsoft. Customers get access to new technologies and Microsoft is able to get immediate feedback about it. They can then fine tune and bring about improvements necessary.
Torque was developed in just 3 months and was actually a side project for the team of engineers and researchers. They also developed other applications at the same time such as the MousewithoutBorders one that allows the user to control 4 of the computers using a single mouse and the keyboard. BusAlarm was another one that alerts you about your bus arrival.