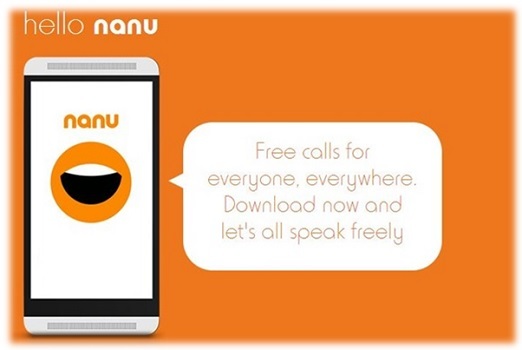 One of the significant advantages of the internet protocol system has been the ease with which people can make long distance international calls. Applications like Skype, Viber and others have made this a breeze, especially for those using 3G enabled handsets and 3G internet pack services.
But What About Those Using 2G And How Are They Supposed To Manage?
Well, it cannot be denied there is still a huge populace using 2G services. Their handsets as well as the internet pack services they use are compatible for 2G only and moreover they might not be able to or need the bandwidth of 3G for the time being.
The good news for them is that they can also make free international calls and that is thanks to the Android app called Nanu. It is free and as a 2G user, you can call other Nanu users on the 2G network for free. You may also call devices that do not have Nanu installed but only for 15 minutes at a time. You will not be able to call beyond 15 minutes. If there is concern about the usage of internet bandwidth, then Nanu assures that the consumption for 10 minutes of free call is possible in 1GB of data.
How Will Nanu Then Support This Facility?
Nanu says it will do so through advertisements. Nanu will play ads when you are on the line awaiting the contact person to answer the call. The moment the person answers, the ads will stop playing and test calls made on one of the 2G networks in Delhi worked out fine. The app currently does not have any ads playing, except for just a message extolling us to download the Nanu.
The Nanu website says it supports international calls to landlines in 41 countries and mobiles in 9 countries. It is going to keep expanding and hopes to develop apps for both the iOS and Windows platforms down the line. It will also put in a messaging feature.
Problems Of Existing Apps On 2G
The app can now be downloaded from the Google Play Store and 2G users can now avoid the issues they face when using Skype or Viber. These apps do not work effectively in low bandwidth. Moreover, you can only call contacts who also have installed the app. Calls to non app contacts on landlines or on the mobile will cost more money, defeating the purpose of free internet calling.
Nanu callers can call any contact on 2g, 3g and 4g networks for free and only have to pay for the data consumed.
Company's Incentive For New Subscribers
For the first million users, Nanu would be offering 15 minutes of free talk time so that Nanu users can talk to non Nanu contacts in 41 countries of the world. You can also use the free time to call mobile users.
The company will surely come out with more plans and exciting offers based on the response it receives. For now 2G users have an option they will do well to try out.