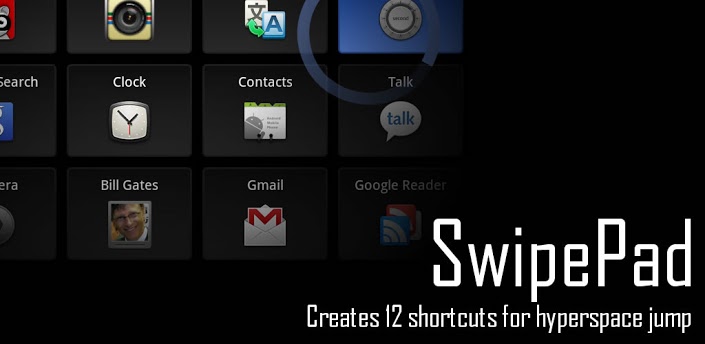 Android features an awesome interface, and switching between apps on Android is generally a painless experience. However, opening a new app while using another app requires users to head back to the home screen and find the app in their grid of icons. Some Android users find this process to be annoying.
If you want a better way to switch between apps, then SwipePad is a perfect solution. Using SwipePad, Android users can launch any app while using another app. So, if you're browsing the internet and want to listen to music at the same time, you can do that in seconds with SwipePad.
The basic idea with SwipePad is that the user sets up 'hotspots' around the Android screen. These hotspots can be used to access different apps. With nine different hotspot shortcuts available, users should have no problem loading their favorite apps onto the screen and making them as accessible as possible.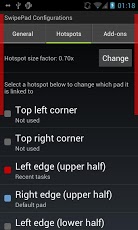 SwipePad settings
After installing SwipePad, you'll have to set up your hotspots. To do this, simply swipe your finger from the hotspot on the edge of the screen and drag your finger towards the center. Release your finger to view a list of apps that you can assign to that hotspot.
The concept behind SwipePad is simple: users can access their shortcut list from one of nine different hotspots around the screen. Simply touch and drag the edge of your screen to view a list of these shortcuts. Once the shortcut window is open, users can see twelve different slots in which to place their favorite apps.
If you're using the free version of SwipePad, then you only have one shortcuts menu available. In other words, you can open SwipePad from nine different parts of the screen, but you're only ever going to see one list of shortcuts.
After placing an app on the shortcut lists, you can access that app from inside almost any other application. Whether you're watching a movie or playing a game, SwipePad rarely has compatibility issues.
You might think that SwipePad would slow down your Android and clog up its memory, but that is not the case. The app is surprisingly lightweight, and most users will not notice a difference in battery life or performance while running SwipePad.
SwipePad also features a list of customization options that are designed to make the app as useful as possible. You can choose whether or not you want haptic feedback (vibration when you tap a button), for example. But to truly customize SwipePad, you'll need to pay extra for one of four different add-ons.
SwipePad add-ons are purchased from the Google Play Store for $0.99. Some of these add-ons are worth it, while others are not. Here is a list of the most popular add-ons:
–MoreSpace: Instead of being restricted to just one pad with twelve shortcuts, MoreSpace allows users to setup nine different pads for each part of their screen. In other words, you can pay $0.99 to have 108 (i.e. 12 x 9) different shortcuts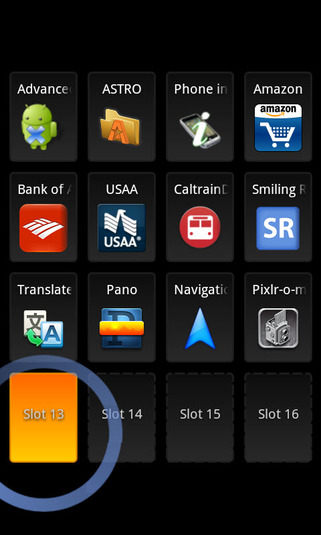 accessible around the edges of your screen.
–AppLauncher: AppLauncher gives users one extra option on their apps shortcuts menu. In addition to eleven shortcuts to their favorite apps, users can setup a button that takes them to their full list of apps. This is an extremely useful setup, as you can have your most commonly used apps on the main page of the shortcuts bar and then navigate to your lesser used apps when needed by clicking on the AppLauncher button.
–Dynamic Pads: With this add-on, SwipePad becomes a lot smarter. It will now create several different types of 'pads' around your screen. One pad will feature a list of recently used apps, for example, and users can set up these 'dynamic' pads however they want. Since these new pads are dynamic, they will change constantly.
–WidgetPad: WidgetPad is a lesser-used add-on that allows users to place a widget over apps on the SwipePad menu.
If you're going to download add-ons for SwipePad, then the first two listed – AppLauncher and MoreSpace – are probably your best options. The other two will appeal to a niche group of users. All add-ons can be downloaded from the Google Play Store.
In any case, SwipePad is a great free and paid app for Android users. If you want to make accessing Android apps from anywhere as easy as possible, then you'll love SwipePad. After downloading it, you'll find it tough to go back to any other setup.
Download SwipePad from the Google Play Store today for free by clicking here