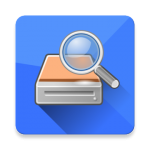 Screenshots
---
DiskDigger is one of those apps that you'll probably never use until you really need it.
DiskDigger lets you recover lost data that was corrupted or accidentally deleted. It can undelete and recover lost photos from your camera's internal memory, for example. If you just reformatted your memory card or accidentally deleted a photo, then DiskDigger is usually the best way to get it back.
What is DiskDigger?
DiskDigger is a suite of software programs for PC and Android. The software is made by Defiant Technologies, LLC.
The Android app is root-only. The developer claims that the Android version of the app isn't nearly as powerful as the original Windows software, and that it's still a "work in progress."
DiskDigger for Android currently holds a rating of 3.6 stars out of 5 on the Google Play Store with a total of 13,623 reviews. It's been downloaded 1 million to 5 million times and is compatible with Android 2.2 and up.
There are a disproportionate number of 1 star reviews from users who claim the app didn't work for them: the app isn't guaranteed to work on any device, so don't blame the free app if it can't magically recovery everything you've ever deleted.
What Does DiskDigger Do?
DiskDigger works by scanning all directories of your Android device for deleted files. After opening the app, it will display all the system devices available for scanning.
For now, the free version of DiskDigger only recovers certain deleted files, including .JPG, .PNG, and .MP4.
It will, however, reveal dozens of different recoverable files on your system. You'll need to upgrade to DiskDigger Pro ($2.99) to recover the full range of files.
Your photos and videos are typically saved in one of those three formats, so DiskDigger still does a pretty good job of recovering lost media files. If you're trying to recover lost texts or contact data, however, then you're out of luck.
The app isn't very pretty: the interface is basic and the folders are listed in their Linux names. However, if you're trying to recover a valuable piece of lost data, then you probably don't care about "being pretty."
How to Use DiskDigger
Using DiskDigger is fairly straightforward. Here's a quick step by step guide:
Step 1) Install DiskDigger from the Google Play Store
Step 2) Launch the app. You should see a list of all the system devices that you can scan for lost files. If you see a superuser request upon launch, make sure you tap "Allow" on that request, otherwise DiskDigger won't work.
Step 3) Tap the Scan Device button to proceed with the search. DiskDigger will display a real-time status report, including all of the recoverable files identified so far.
Step 4) Tap on any of the recovered files on the list to see a preview of the file on the right side of the screen.
Step 5) You can filter through files based on their size and type. If there are too many files in the list, this can help narrow down your selection.
Step 6) Check the box beside each file you want to recover. Then, choose from one of three different ways to recover the file: email, FTP upload, or save locally.
That's it! Your files should (hopefully) be recovered with no loss of quality or data.
How Much Does DiskDigger Cost?
The full version of DiskDigger is available for free on the Google Play Store. There is a pro version of the app available for $2.99 as well.
The pro version lets you recover more file types. Like, a lot more. You can recover all of the following file types with the pro version: JPG, PNG, MP4 / M4A / 3GP / MOV, GIF, MP3, AMR, WAV, TIF, CR2, SR2, NEF, DCR, PEF, DNG, ORF, DOC / DOCX, XLS / XLSX, PPT / PPTX, PDF, XPS, ODT / ODS / ODP / ODG, ZIP, APK, EPUB.
The free version only lets you recover 3 different types of files (PNG, JPG, and MP4).
Conclusion: Should You Download DiskDigger?
Most of us have experienced the pain of a deleted file: you're trying to mass delete a bunch of crappy pictures from your phone, only to accidentally place your finger over a photo you actually wanted to keep.
Without DiskDigger, that photo is lost forever.
Whether you just deleted a photo or you reformatted your entire Android device, DiskDigger is the best data recovery tool available for Android. Like I said at the top: you don't realize you need DiskDigger until you really need it. Download it today for free from the Google Play Store and save it for a rainy day: https://play.google.com/store/apps/details?id=com.defianttech.diskdigger&hl=en