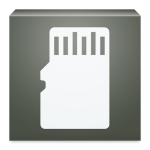 Screenshots
---
For some bizarre reason, Android 4.4 KitKat disabled the ability to write files to your microSD card. SDFix aims to fix that problem.
This root-only app provides an easy fix for MicroSD writing problems. It restores the ability that KitKat took away simply by changing a line in one single configuration file.
What is SDFix?
SDFix is a free app available on the Google Play Store. It came out soon after KitKat was released in September 2013. The app has been downloaded between 500,000 to 1 million times and currently holds a rating of 4.2 stars out of 5 on the Google Play Store with a total of 8,365 reviews.
As of January 2015, KitKat was the most popular Android operating system version in the world today – so this app is relevant for the vast majority of Android users.
SDFix alters a file in your Android's root system folder, which is why you need root access for this app to work. Without root access, the app cannot access or edit the file.
The app was created by NextApp, Inc., which has also released a range of other Android apps, including a web browser, file explorer, and cloud storage system.
What Does SDFix Do?
Android 4.4 KitKat removed the ability to write files to your microSD card – at least on phones and tablets that have both internal memory and user-installed microSD cards. You can still place files on your SD card from your computer, but you can't do it directly from your Android device.
This is frustrating for users who stored their photos on their SD card, or for anyone who liked to install apps directly to their SD card.
SDFix will singlehandedly restore this ability it does so by modifying a system configuration file in the root directories of your Android device.
That configuration file is found at /system/etc/permissions/platform.xml. SDFix modifies that file by adding the Android UNIX group "media_rw" to the WRITE_EXTERNAL_STORAGE permission's configuration.
That's all this app does: seriously, it just solves that one specific problem.
You don't need to use this app if you have installed a new custom ROM after rooting: most custom ROMs don't have the same restrictions as stock Android, so installing this app isn't necessary.
You also don't need to install this app if you have a device with no user-installed microSD card: like a Nexus. I know that seems obvious, but the app's developer specifically mentions that in the app description, so I guess it's been a problem in the past.
Despite only accomplishing one specific thing, SDFix is actually a very good-looking app: it uses the latest material design UI specifications and even have some pretty pastel colors. You may only see this UI for a few seconds, but those few seconds will be extremely enjoyable on your eyes.
How to Use SDFix
Using SDFix is easy:
Step 1) Install SDFix from the Google Play Store here
Step 2) Open the app
Step 3) Tap Continue at the bottom of the Welcome scream
Step 4) Check the box on the Ready screen, then tap Continue
Step 5) Wait for SDFix to complete the repairs. You'll see a green confirmation screen if everything went smoothly.
That's it!
How Much Does SDFix Cost?
SDFix is free to use. It's available on the Google Play Store.
You can support the developer by buying their other paid apps, if you so desire. But there's no premium version of SDFix. Better yet, SDFix doesn't feature any ads or bug you about buying other premium apps.
Conclusion: Should You Download SDFix?
SDFix is an extremely useful app that accomplishes one specific goal: it restores your ability to write directly from Android to a microSD file.
When KitKat removed this ability, people were mad. SDFix made those people happy again. That's all there is to say about this useful root-only Android app.