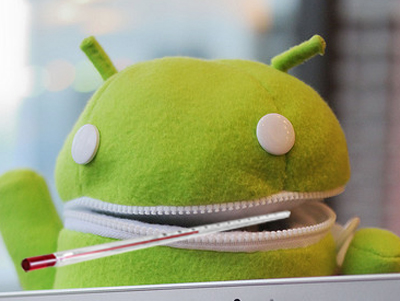 It's no secret that Android is the most popular operating system for mobile malware. It's a lot more open than any other mobile operating system, and it's also the most popular mobile OS in the world. Both of these qualities combine to make Android a hotbed of mobile malware
It's easy to say mobile malware won't affect you. But unfortunately, it probably will. If your Android device hasn't already been infected, then it may be infected soon. Why? Well, year after year, Android threats have increased in number. And that increase is getting alarmingly large.
How large? Check out this graph of malware discoveries by year: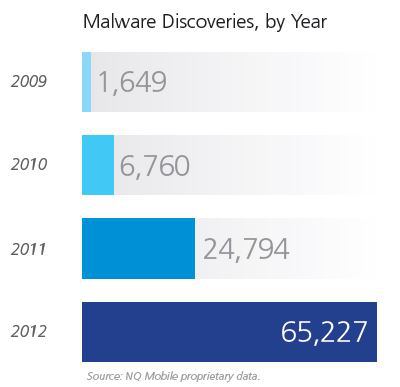 Those numbers come out of a study conducted by NQ Mobile, a security firm. For those who aren't good at math, that's a stunning 163% increase in mobile malware over the past 12 months alone.
The study examined a total of 5.3 million apps available in 403 different online stores. In total, 65,227 different pieces of malware were found over the past year, an exponential growth rate when compared to just a few years ago.
In addition, 32.8 million Android devices are currently infected by malware, which is an increase of 300% from only a year before.
Different types of malware
Android malware isn't only increasing in number: it's also increasing in variety. Earlier this year, a new type of Android malware reared its ugly head: malware that can spread to your Android via USB cord over a computer. So if your PC is infected by a virus, and you plug your Android into your PC to update it or manage files, it could catch a nasty infection.
Other viruses are designed to monitor web usage on your Android device and steal social media passwords. Some may even be able to turn on your webcams and microphone to record activity.
Simple measures you can take to protect yourself
As scary as the above numbers may seem, it's not the end of the world quite yet. There are plenty of simple steps Android users can take to protect themselves, including:
–Installing a free Android antivirus app
-Avoiding going to suspicious websites
-Only downloading apps from legitimate app stores, like Google Play or the Amazon Store
-Stop trying to find free versions of premium apps (they're usually viruses in disguise)
If you can follow those simple guidelines, the protecting Android from viruses shouldn't be too difficult. Let's just hope these virus and malware numbers start reversing soon.