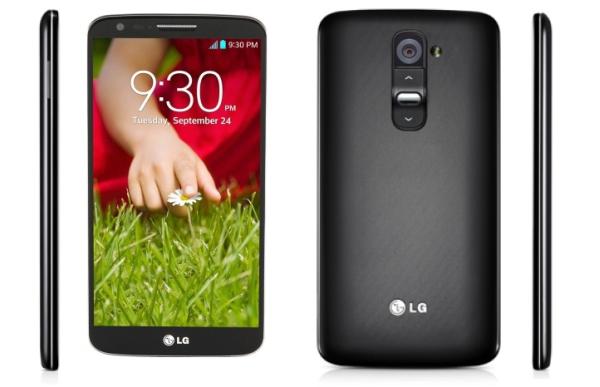 When the LG G3 was announced, people knew it was an awesome smartphone.
It's the world's first major smartphone with a quad HD screen. It also features a cutting edge Snapdragon 801 processor, 13MP camera, 2GB or 3GB of RAM, and an Adreno 330 GPU.
Yes, those specs are awesome. But Android users were worried that those tech specs would hurt the LG G3's battery life. What's the point of a quad HD screen if it can only stay on for 4 hours?
Fortunately, the LG G3 has blown recent battery life tests out of the water. Not only did the LG G3 surpass expectations, but it surpassed battery life performance of every other smartphone in its class. The LG G3's battery life is closer to most tablets than smartphones.
Battery life testing was performed by PhoneArena.com. Full test results can be viewed here.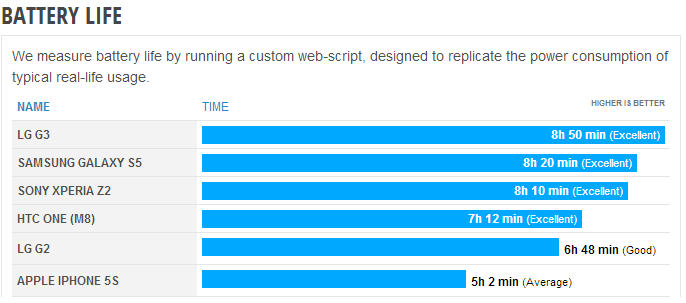 As you can see, the LG G3 blew past its biggest competitor, the Samsung Galaxy S5, by half an hour. It also surpassed the HTC One M8 and Xperia Z2. The iPhone 5S, meanwhile, is 3.5 hours behind.
Better yet, the G3 doesn't take a ridiculously long time to change. Both the G3 and the S5 take approximately 2 hours to charge:

Apparently, QHD screens do not create as many battery life problems as we thought. That's good news for the future of beyond-HD Android smartphones.
Suddenly, the Galaxy S5 is no longer the best and most powerful smartphone on the market. With the LG G3 outselling the S5 in South Korea, we could see a new king of the Android smartphone market before the end of the year.
Obviously, PhoneArena.com is not the world's only mobile battery life test. PhoneArena.com uses a custom web script to replicate real usage conditions. Every battery life testing site, however, has its own testing scripts and software. This is no guarantee that the G3 will beat its competitors in every battery life test, but it's certainly a good start.
2 hour charging times? Over 8.5 hours of battery life usage? The LG G3 may be my next smartphone.