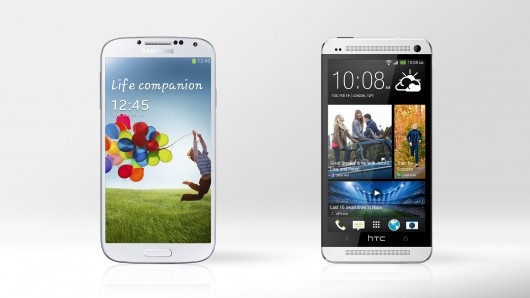 It's already shaping up to be the biggest smartphone battle of the year – at least until Apple gets around to releasing its next phone. The Samsung Galaxy S4 and HTC One both come with a number of unique advantages and feature beautiful, vibrant screens.
But which phone is the real winner? Today, we'll answer that question and explain the pros and cons of each handset.
Exterior design and build quality
It's amazing that, year after year, smartphone manufacturers somehow manage to make their handsets smaller and smaller without sacrificing battery life or power. It blows my mind.
This year, both HTC and Samsung managed to make their phone's exteriors thinner, lighter, and more durable than ever before. The HTC One features a screen that is .3 inches smaller the GS4 (4.7 inches versus 5 inches), but in terms of size, the two are virtually identical.
But after picking up the HTC One and the Samsung Galaxy S4 in both hands, the difference becomes obvious. The GS4 feels very similar to a GS3 – the plastic is flexible, which helps reduce screen cracking, but it also makes the phone feel somewhat cheap.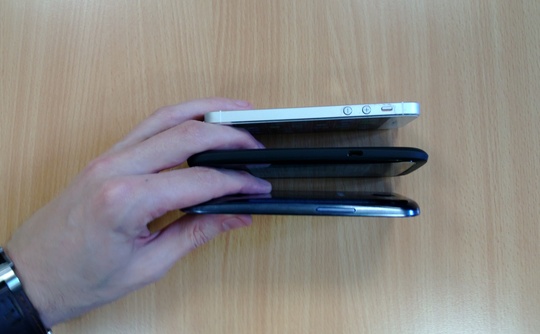 The HTC One, on the other hand, feels more like a Lumia 920 –thick, solid, and tight, to borrow an internet reference.
Winner: HTC One
Screen resolution and display quality
After looking at the exterior of each phone, the next thing you'll notice is the phenomenal display. Both the HTC One and Samsung Galaxy S4 have the same resolution: 1920x1080p. That's more resolution than my laptop, and it's pretty ridiculous that smartphones have now caught up to the average HDTV in terms of screen resolution.
While resolution is identical, there are some small differences in terms of quality. Since the GS4 features a Super AMOLED display, some colors don't look true-to-life (it's designed that way). Instead, they appear more vivid and vibrant.
The HTC One, meanwhile, uses LCD3 technology, which is more focused on recreating colors that are true to life. At higher brightness levels, colors can look washed out.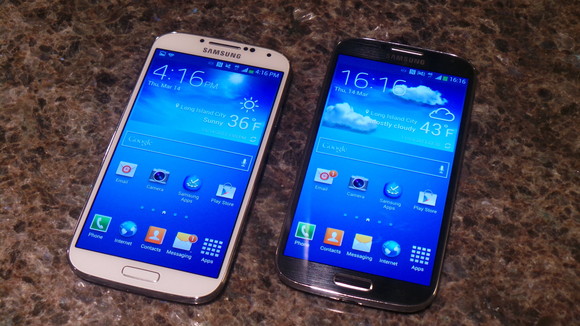 Pixel density is nearly identical, with the One holding an edge of 469pi over the GS4's 441ppi. You won't notice the difference. Still, we have to give this edge to the GS4, which manages to product some sexy blacks and vibrant colors all around.
Winner: Samsung Galaxy S4
Camera
I replaced my real camera with my smartphone's camera a long time ago. Early adopters of the HTC One and GS4 are undoubtedly interested in what the camera has to offer, and it's easy to be impressed by what's on the menu.
This is where the two phones significantly differ in terms of technology, but not in terms of overall quality. The GS4 uses a 13MP camera while the HTC One stacks a number of different 4MP sensors on top of each other. This technology is called UltraPixel, and it actually stitches together the final picture in order to bring out more color and better contrast.
At the end of the day, the GS4 is noticeably better in daylight situations, while the HTC One is noticeably better at night when not using the flash. I do appreciate a new GS4 dual camera-shooting feature that allows you to film from the front and rear cameras at the same time. But both cameras come packed with a number of powerful software filters, shooting modes, and other tools for perfecting your photographs.
Our friends over at Phandroid compared the video quality of both handsets:
Can you tell the difference? I think this one's a toss-up.
Winner: Tie
Storage
In terms of internal storage the GS4 and the One are both fairly even. You can buy 32GB and 64GB varieties of each phone, although the GS4 line also includes a 16GB version.
So is this one a tie? Far from it. The GS4 – like the GS3 – supports up to 64GB of additional storage via a MicroSD card while the One has absolutely no support for expandable memory.
The GS4 wins this category hands down. We can't say no to an additional 64GB of phone storage space.
Winner: Samsung Galaxy S4
Benchmarks and performance power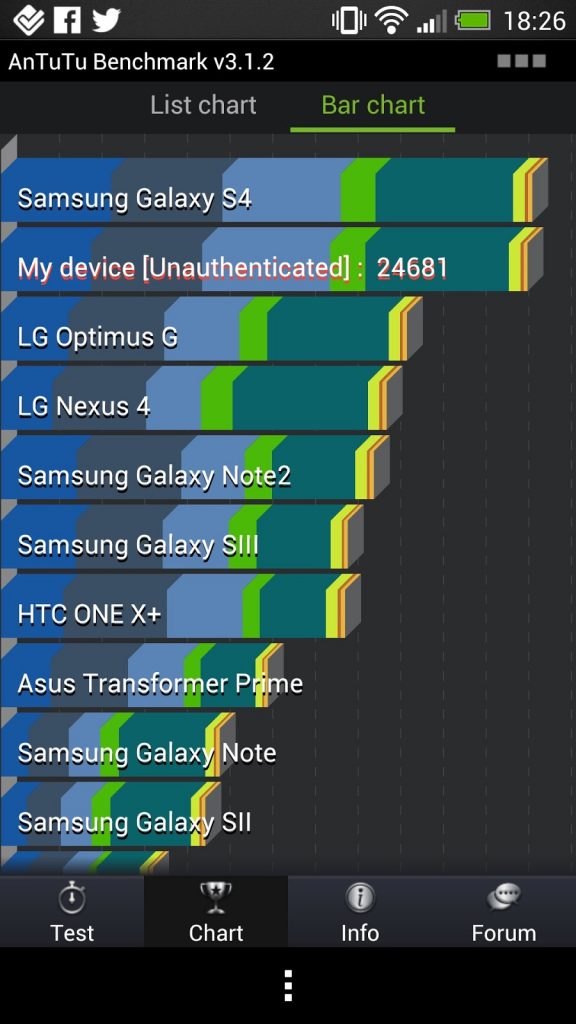 Phone benchmarks are starting to become as important as computer benchmarks for PC gaming. Today, the latest and greatest Android phones play the best Android games without a hint of lag. The same can't be said for lower level phones, and even my Samsung Galaxy S3 can stutter at times when playing resource-intensive games like Subway Surfers.
Unsurprisingly, the Samsung Galaxy S4 edged out the HTC One in terms of benchmarks (source). But any advantage that the GS4 has is mitigated by its poorly-performing software, which drags its powerful hardware back to reality.
At the end of the day, there is no discernible difference in performance between the One and the GS4. Some benchmark apps come out in favor of the GS4, while others give the nod to the HTC One. Deal with it.
Winner: Tie
Software
It's no secret that Samsung is making its own operating system called Tizen. As a result, Samsung is increasingly forcing Galaxy users to use its own software instead of default Android apps. Samsung's software is hit and miss, and you probably won't end up using most of it.
There are cool features – like the ability to turn your GS4 into a universal remote with Samsung's WatchOn program (the One has this too under a different name) – but there are a number of other features that you will probably never use.
Meanwhile, HTC prides itself on its Sense 5 interface, which once again overhauls the Android homescreen interface and tweaks the open source OS in a number of other ways. This one – like so many smartphone qualities – comes down to personal preference. Do you prefer Samsung TouchWiz or HTC Sense? Personally, I find both interfaces decidedly average.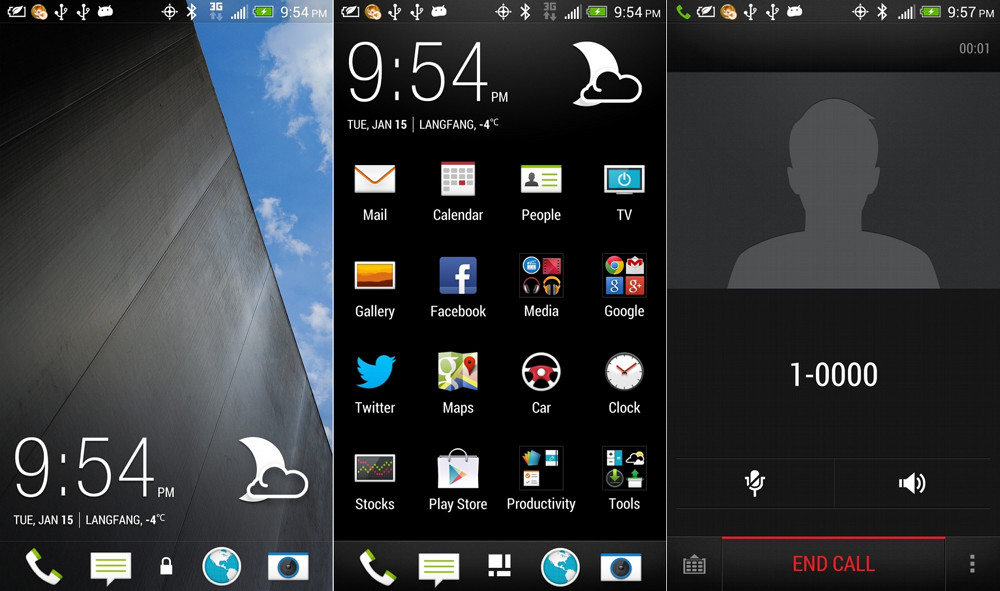 Winner: Tie
Audio
Audio is the only real category where one of these phones really blows the other out of the water. The HTC One comes with Beats Audio technology along with two front-facing speakers that use a system called 'BoomSound'. As the name 'BoomSound' suggests, these speakers are loud. Whether you're listening to music or waiting for an important phone call from your pocket, these speakers provide the oomph that is lacking from so many smartphone speaker systems.
The GS4 only has the same rear-facing speaker that sounds muffled and dull when it's in your pocket. But as you may have seen from the commercial below, Samsung does have the Group Play music feature, which most GS4 users will probably never see the point of using.
Winner: HTC One
Battery life
With their 1080p HD screens, you would be forgiven for thinking that both these phones would have poor battery life. Fortunately, that's not the case. The GS4 and HTC One each feature sizable batteries (2,600 mAh and 2,300 mAh, respectively) that keep up with the expanded features of this latest line of Android smartphones.
As with any electronics, the battery lives of the GS4 and HTC One depend entirely on what the user is doing with them. With normal use, expect to get a full day out of each phone – somewhere between 11 to 15 hours. Beyond that, you're going to need a charger.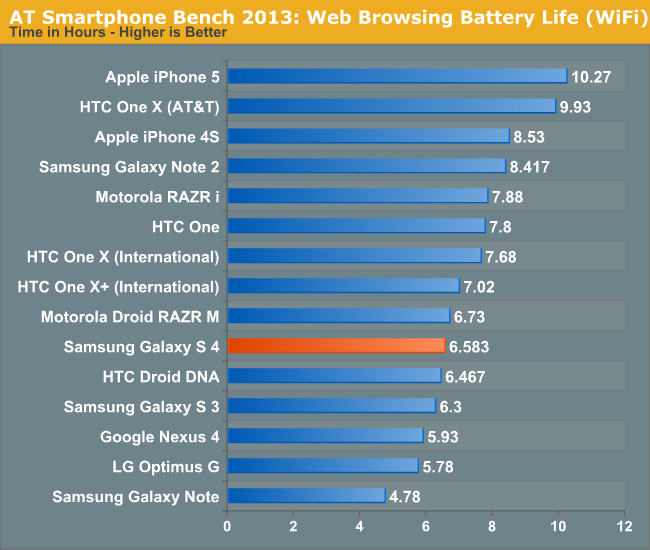 For what it's worth, the HTC One's battery cannot be removed because it's sealed within the device, but the GS4's is easily removable from the back.
Winner: Tie
The Winner
Finally, we come to the verdict – or lack thereof. As you may have already noticed, this one is perfectly split down the middle. The Samsung Galaxy S4 won 2 categories, as did the HTC One. The rest of the categories were ties.
So what does that mean for you? Well, it means that life has never been better. You can't go wrong with either phone. Both offer an unpatrolled mobile experience thanks to the latest and greatest Android operating system and some extraordinarily powerful hardware.
The vibrant screesns and beautiful resolutions will make you want to keep checking your phone for messages, and the high resolution cameras will make even the most disgusting surroundings look like a masterful portrait.
It comes down to personal preferences. Personally, I like the exterior appearance of the Samsung Galaxy S4 due to its tiny bezel and the fact that the screen takes up basically the entire front. I also appreciate having the external storage space provided by a MicroSD. But hey, that's just my opinion.