Most people know how to connect a USB stick to their PC. USB sticks are convenient because you can easily transfer files from your computer to another computer in seconds.
Sure, cloud storage has made USB drives slightly less important. But it's still a good idea to keep a removable storage device around your house.
The problem with USB sticks is that you can't put them into your Android or any other handset. Micro USB and MicroSD are the only slots available. After all, the USB port itself is larger than most of today's smartphones.
MicroSD slots are useful, but there are two problems with them. First, some Androids – like Nexus smartphones and tablets – don't even have a MicroSD card slot. And second, the MicroSD slot on popular smartphones like the Galaxy S3 can be a pain to get to since it is located behind the battery cover.
The easy solution

That's why a group of geeks have come up with an easy solution: a MicroSD adapter that fits into your handset's MicroUSB port. The group recently created a Kickstarter campaign for their project and have already tripled their funding goals.
This seems like it's something that would have been done before, but it's not. There aren't any good MicroSD to Micro USB card readers on the market today.
Here's how it works:
-You need a MicroSD card with either the SDHC standard or MicroSDXC standard (32GB and 64GB limits respectively). In the future, the SDXC limit should hit 2TB, and the reader should be able to handle cards of that size although there's no way to test that now.
-The device is smaller than a quarter coin and has an indicator light
-Located on the device is a micro USB port that can fold in. On the side there is a MicroSD port. Simply plug a MicroSD card into that slot, plug the micro USB port into your handset, and you're good to go.
-The card reader also features a small hole and keychain that allows you to easily attach it to a set of keys.
-Locking mechanisms keep everything secure on the device
If you pledge $12 or more on Kickstarter, you will receive one card reader along with standard international shipping. That sounds like a pretty good deal if you ask me.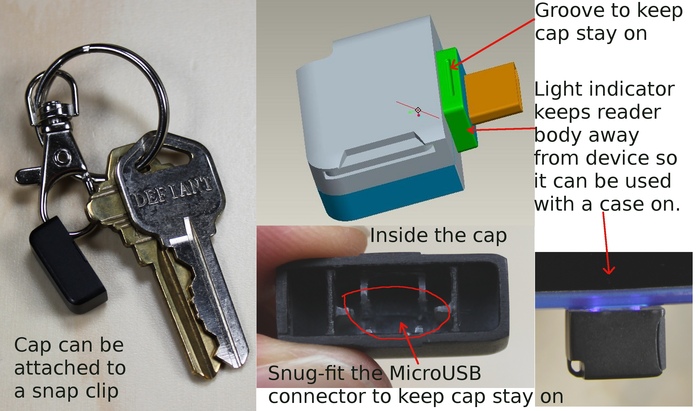 Why it's useful
The removable MicroSD card is useful for two reasons:
-Because not all Androids have internal MicroSD storage available
-Because it's easier than turning off your device, removing the battery cover, and detaching the internal MicroSD card, especially if you're only transferring a few files
For $12, I think that the MicroSD card reader/micro USB adapter is an excellent bargain. You can:
-Backup your Android
-Transfer large files quickly
-Move apps, photos, and other personal information from your Android to a computer
-Carry backup information and other data everywhere you go on a keychain, which is useful if your Android crashes
Learn more about the project and preorder your reader today by clicking here.