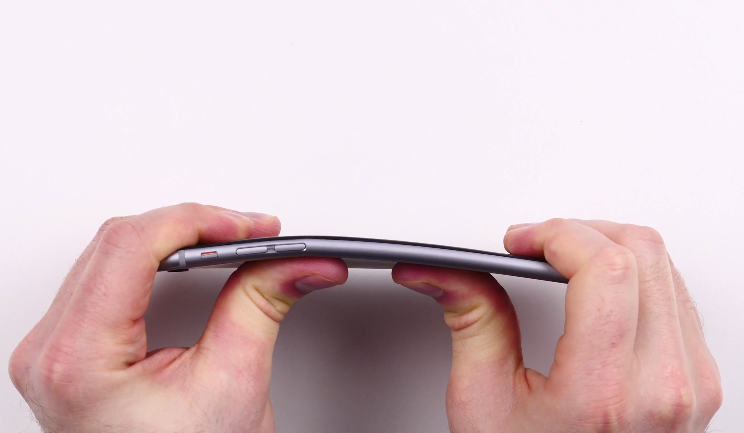 Who says innovation is dead?
Just days after Apple unveiled the iPhone 6, Apple users have discovered a hidden feature on their new smartphones: it can easily bend to form a unique curved-screen design.
Apple is likely responding to its curved competitors like the LG G Flex and Galaxy Note Edge, both of which use curved smartphone screens for improved ergonomics and notification features.
Apple's iPhone 6, however, is the first smartphone that lets the user bend the smartphone under their own power – letting them choose the ideal parabolic arch to suit their needs.
Apple has not yet commented on this new feature. So far, the feature is currently only available on the iPhone 6 Plus, which uses an amazingly-thin lightweight aluminum shell. That shell is just millimeters thick and is designed for maximum malleability.
Feature is unlocked using skinny jeans and thumbs
There are two ways to unlock this surprising new feature.
First, many users have discovered that the feature can be unlocked simply by placing the device in their front pocket and sitting down. The feature is unlocked more quickly if you're wearing skinny jeans or tight pants – although users with pockets of all shapes and sizes have reported issues.
The second way to unlock this feature is to gently grip the phone on either end and exert pressure on your thumbs in the middle. It doesn't take long before the iPhone 6 Plus frame innovatively bends outward.
Bend the iPhone 6 Plus any way you like: you can bend it so it gently cups your face as you talk, for example. Or, bend it in all four corners to form an advanced "bowl" design.
In yet another example of Apple brilliance and case design at work, the iPhone 6 Plus remains on throughout the bending process, giving users easy access to iOS8 and all of the other amazing iPhone 6 features.
Apple has not yet commented on the inclusion of this ground-breaking new feature. Checkmate, Android fanboys.